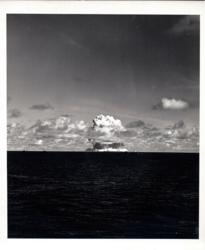 Beverly, Massachusetts (PRWEB) May 10, 2012
The feature lot of the sale is a rare and important, Manhattan Project collection of original photography including: letters, schematics, negatives, and aerial shots of Hiroshima and Nagasaki, Japan, after the dropping of the atomic bomb as well as images of the explosions, largest photo 9"h x 18"w in album, also including images of briefings and 1946 Bikini Atoll test, Joe Rosenthal images of Japanese surrender 1945, and a collection of Fritz Goro, Science photographer for LIFE Magazine, 650 images in total. Provenance - from the collection of a scientist who worked on the atom bomb, New York and friend of Fritz Goro.
The sale will be held at the Kaminski Auctions gallery on May 16th, starting at 6:00PM. A catalog for the sale is available and the entire sale may be viewed online on Live Auctionneers.
Kaminski Auctions located on the North Shore of Boston has been serving the New England antiques market for over 25 years, as a full service auction house and appraisal service for fine art, antiques and estates.
With two locations in Beverly, Massachusetts, including a new state of the art auction gallery located at 117 Elliott Street, and a historic 1850's barn and office facility at 564 Cabot Street Kaminski Auctions hosts 16 auctions a year.
In today's highly competitive market of fine art and antiques, Kaminski Auctions provides its customers with bicoastal services and marketing with west coast offices in Beverly Hills and San Diego, California.