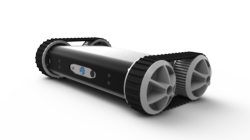 We'll finally have access to the military-grade, life-saving advanced technology needed to face our new challenges while keeping true to the fiscal responsibility we promised our citizens.
Frisco, Texas (PRWEB) May 10, 2012
Each day we ask thousands of men and women to risk their lives to keep us safe. Spanning many duties from the home front to the battlefront, these brave folks willingly step up to the many challenges thrust upon them. A group of local law enforcement officers thought it was about time to make these challenges safer. "We needed the same access to advanced technology as our defense counterparts, but without the defense price tag", said Ray Jewett, co-founder of Blue Shark Innovations (BSI). Together, Ray Jewett, Bryan Sartain and Dr. Edward Carew set out to collect and understand all the challenges facing our law enforcement, medical, hazmat and many other hometown heroes. The composite solution required to satisfy the aforementioned needs led to the development of an Economical Remote Reconnaissance Vehicle (ERRV), the first of their innovative solutions.
ERRV is a battle-ready, interactive surveillance unit designed to replace its human counterpart in dangerous situations. This tough little tracked robot can host a multitude of sensors and appendages as needed to support a wide variety of missions. At ERRV's core is a suite of rich audio, video and other sensors which replaces the need to put people directly in harmful situations. In law enforcement situations, this real-time information link is critical. "There are many great product and technologies on the market to fulfill our need to "sneak and peak", but most are limited to video images only. We have resolved more situations utilizing intelligence gathering through listening devices than any transmitted video platform. If you give me just video, I'll tell you what the suspect is doing, but if you can also give me audio, I'll tell you why he's doing it and what he's about to do next. And that's how you win." says Ray Jewett.
This little robot is proving to be much more powerful than initially estimated. "We designed ERRV to be expandable so it can grow into several roles beyond law enforcement. This is a product that will revolutionize the tactical/robotics industry", said Dr. Carew. In the near future, BSI's portal will allow users of ERRV to build new functionality and rapid prototype new appendages – allowing ERRV to meet the needs of any new mission in weeks instead of years. "The integration of our SAFE ChangeSM Innovation model will allow users of ERRV to access experts from over 1,500 disciplines to go from dream to delivery of any needed capability in days" said Robert Fioto, CEO and Chairperson for the RACE organization. James Dickson of Triple D Machine was selected to fill the partner role for rapid manufacturing needs. Mr. Dickson added that "it is exciting to be a part of an innovative team working together to both save lives, as well as reduce cost". This similar "Partnering" model was used by defense agencies resulting in billions in taxpayer savings. "We'll finally have access to the military-grade, life-saving advanced technology needed to face our new challenges while keeping true to the fiscal responsibility we promised our citizens", said one Chief of Police during ERRV's requirements testing.
When asked, Bryan Sartain stated that "the key to the success of ERRV was in listening to the true current and future needs of our community. We don't need $10,000.00 complex, proprietary parts. We need cost-effective, agile, flexible solutions that can grow with our ever-changing responsibilities. ERRV is being built by the community it protects at a fraction of the cost." Tony Rike, Retired Police Officer and Crisis Negotiator further commented that, "comparatively speaking with regards to what's currently on the market, the ERRV hits a performance grand-slam and delivers at 1/10th the price". Staying true to their commitment, much of ERRV uses off-the-shelf parts and runs for days using AA batteries. "We are excited about developing the ERRV from a napkin sketch to a fully working system", said Jonny Dickson, President of Rigid Concepts. "The electronics package will serve as a core building block for many other similar devices. It is unique by its configuration being easily modified to include additional sensors/devices/capabilities. The communication and information gathering technology we have developed will allow the ERRV to outperform other systems costing many thousands of dollars more."
Early prototype reviews of the EERV indicate that the BSI team has produced an amazing product. "The abilities, specifically the functionality and affordability as listed by BSI describing their EERV, break new barriers with ease. Once barriers are broken, new and exciting things happen…" (Ret) Colonel Calvin Jewett, SR-71 Flight Test Engineer. The BSI team will release ERRV with a "Bot-Down" guarantee as well. Any ERRV that dies in the line of duty will earn a special place on the BSI portal and be replaced at no cost.
The first production runs of ERRV are scheduled to be delivered in approximately 90 days. RACE will begin accepting preorders on May 10th, 2012. For more information: http://collaborace.org/robotics/errv
About Blue Shark Innovations
Blue Shark Innovations (BSI) is a Frisco, Texas-based, small business founded by law enforcement and emergency professionals to fulfill the need for economical reconnaissance platforms that others had left behind. BSI specializes in providing our hometown heroes and warriors with the desperately needed tools to deal with dangerous and life-threatening situations. http://www.bluesharkinnovations.com
About RACE
RACE (Revolutionary Accelerated Collaboration Environment) is a collaborative nonprofit partnership of performance improvement and innovation leaders from industry and government - strategically integrated into a single, cohesive, high-performance team offering a depth and breadth of experience, knowledge and capability unmatched by any single organization. RACE harnesses the power of its immense knowledge and resource base to any challenge given to us. http://www.collaborace.org