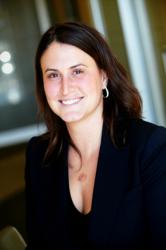 She makes an excellent candidate for the Jack Berman Award, and we are extremely proud of her recent nomination - William R. Simon, Jr., Managing Partner of San Diego Law Firm
San Diego, CA (PRWEB) May 16, 2012
Attorney Kathy Minella was recently nominated for the Jack Berman Award, as presented by The California Young Lawyers Association.
Each year the State Bar of California recognizes individual young attorneys who are under the age of thirty-six, in their first five years of practice, and are noticeably committed to serving the profession and the public. Nominees are recognized for their accomplishments through a program, project and/or special event. One influential nominee will be awarded the Jack Berman Award in October 2012 in San Francisco amongst select peers and esteemed legal professionals, as determined by the State Bar Board of Governors.
Kathy Minella, family law attorney of San Diego Law Firm, serves as an Adjunct Professor through Kaplan University. Aside from servicing San Diegan families in the area of divorce, support and custody, attorney Kathy Minella teaches criminal justice students about domestic violence laws, the warning signs of domestic violence, and ways to assist domestic violence victims.
San Diego Law Firm Managing Partner, William R. Simon, Jr. says, "Pursuant to the tradition and spirit of the Jack Berman Award, I believe Ms. Minella proves to be a shining example that in conjunction with learning how to practice law, young attorneys can impact the legal profession and the public in a positive manner, if they possess an unmatched work ethic and intrinsic desire to do good. In her second year of practicing law, Ms. Minella has not only shown a strong and continued commitment to learn from the experienced attorneys on our team, but she has also acted as a mentor to her department. She's made an invaluable impact on our team and our clients. We are extremely proud of the work Ms. Minella does in the classroom as an Adjunct Professor. She continues to impress me with her dedication to improve and advance the lives of her students, and our clients. She makes an excellent candidate for the Jack Berman Award, and we are extremely proud of her recent nomination."
"What continues to make our community support influential is that we have employees who desire to serve. Ms. Minella is one such admirable attorney. In her eight months of employment, she's become famous for attending community events and/or supporting noble causes. It was because of her personal recommendation and advocacy that we came to support Operation Homefront," adds Community and Public Relations Manager, Lacey Stenson of Ms. Manilla.
Most recently attorney Kathy Minella volunteered with the San Diego County Bar Association to provide San Diegan families free family law information through The Family Law Facilitator Program as part of Law Week. Additional events included the Children At Risk Book Drive, Law Library Free Legal Clinics, and the Law and Justice Job Shadow.
"It is such an honor to have been nominated for this esteemed award. I am beyond grateful to work at a firm where I'm not only encouraged to give back to the profession and the public, but also considerably supported by the Partners to do so. The culture at San Diego Law Firm continues to inspire me. I love being a college professor and truly enjoy the opportunity to work with my students. I've been incredibly fortunate to have valuable mentors and teachers in my life and in my profession. Regardless of the outcome in October, I am truly humbled by the nomination and appreciative to the team at San Diego Law Firm for their continual support," says Kathy Minella.
Hailing from Chicago, IL Attorney Kathy Minella attended California School of Law, where she interned at the Madge Bradley Domestic Violence clinic and discovered her passion for family law and helping victims. While in law school, Kathy also volunteered to participate in the Street Law program by teaching underprivileged youth about the law and by helping them compete in mock trial competitions. Before that, Kathy earned her BFA degree from Columbia College Chicago, where she studied multimedia design and eventually ran her own business producing wedding videos and designing DVD's.
About San Diego Law Firm
Located in North Park, San Diego Law Firm has a reputation for outstanding ethics in the marketplace, as recognized by the Better Business Bureau. The firm serves clients in a variety of matters, including business and real estate law; bankruptcy; divorce, support and custody; accidents and injuries; lawsuits and disputes; and wills, trusts and probate. To learn more about San Diego Law Firm, visit http://www.sandiegolawfirm.com