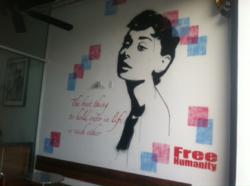 There aren't enough places that truly support artist. A lot of these guys are so talented and don't have the proper exposure they need to make a living.
(PRWEB) May 10, 2012
Rockpaper Coffee opened its doors in February 2012 and it is already becoming hot spot for bloggers, performers and artist alike to get there caffeine buzz on. Rockpaper is popular not only for its amazing organic coffee by Groundwork, but more so for its welcoming atmosphere for the arts.
Enter Rockpaper and you feel like you're in an art gallery that serves coffee. The walls are covered with art work ranging the spectrum from local artists, all the way to famed photographers selling work for thousands of dollars.
Under a stunning bedazzled image of the Looney Toon'ss character "Marvin the Martian" sits the Rockpaper stage nestled in the center of the café.
Rockpaper hosts the best open mic Los Angeles has to offer. Tuesday through Friday, performers can test their material in front of an audience filled with Sunset and Gardner locals.
The latest addition in Rockpaper's art comes courtesy of the immensely talented and popular street artist by the name of Free Humanity. Just this past Tuesday, commuters and passerby's on Sunset were treated to see Free Humanity painting directly on the patio walls of Rockpaper. On the west wall you will see a 10 foot image of Audrey Hepburn with the quote "the best thing to hold onto in life is each other". The east wall has an image of Star Wars character Yoda holding a paint roller like a light saber. The message "Wars not make one great" is printed dominantly over the posing Jedi master. Any Star Wars fan will appreciate the use of "Yoda Language".
Free Humanity's art is known for having a social theme which is consistent throughout the majority of his work. As quoted on his website his mission statement:
"Taking back the humanity stolen from our minds by social manipulation and planting seeds of positivity through art and consciousness."
Rockpaper owner, Michael Quinones, is huge supporter of the arts and will be continuing showcase work because he believes there is a definite demand for it in LA.
"There aren't enough places that truly support these local artists. A lot of these people are so talented and don't have the proper exposure they need to make a living. People always ask about the work we have on display and want more, so I provide it" states Michael Quinones.
Rockpaper Coffee is one of the top café's in Hollywood. Search Rockpaper coffee, Los Angeles for a full menu. The café is located at 75009 Sunset Blvd, Los Angeles 90046.