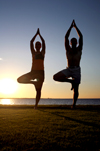 Yoga has replaced 3 of my 5-day/week high cardio workouts, plus the noticeable changes to my physique, energy and confidence spur me on.
Puerto Vallarta, Mexico (PRWEB) May 11, 2012
Healing Hands Now Offers New Sunday Yoga Classes - 11am at Haixa in Punta Mita, Mexico. Want to get strong, healthy and create definition? Healing Hands now features Sunday Yoga Classes - 11am at Haixa in Punta Mita, Mexico. Get ready to chisel the body into form through the practice of Yoga at Healing Hands! The "Sculpt a New You!" series helps shape the figure with yoga—at Healing Hands.
Traditionally offering Ayurvedic treatments, massage therapies, bodily cleansing techniques, Healing Hands is now on to yoga, and for good reason. Ayurveda teaches that yoga creates and maintains a natural body, mind and spirit balance with wellbeing. It builds an internal environment that provides a state of equilibrium—a health dynamic. In doing so, yoga can help shape a new physique.
Healing Hands believes yoga is a gift, a treasure and a tool. It understands how yoga can help structure a new body. Now, it brings its benefits to the public! By incorporating yoga into its modalities, Healing Hands can help create a greater level of consciousness that results in self realization, spiritual development and, a fantastic figure!
The return of the Yogi
Born in India thousands of years ago, yoga began during a period of struggle. At the time, people engaged yoga to overcome passions and triumph with nature's divine qualities. In a deep state of meditation, the Rishis (seers) were inspired with the pure knowledge of yoga. Those who practiced yoga, the yogi became connected with the Universal source of life—and so can others, today!
Now and since its beginnings, yoga is and has been greater than a teaching. It is a way of life, a culture and a lifestyle that incorporates more than techniques, practices and ideas. Yoga embraces eating habits, bathing rituals, meditation, social interactions and working methodologies. In doing so, yoga provides the foundation to sculpt and shape the body as a whole.
To some, yoga may be a sport, an art form or any of a number of disciplines. The postures and stances associated with yoga have also been shown to make up its physical nature. While there may be a clear reason as to the practice of yoga, a true understanding of its results may lack clarity.
Through its vast research, Healing Hands has shown that there are multiple yoga aspects that reach beyond flexibility, strengthening and stress reduction. So, Why practice yoga? Like Michelangelo chiseling at his David, the body, too, can be sculpted as the individual sees fit—through yoga.
The time is Now!
Healthy human beings continually search for ways to improve themselves physically, emotionally, spiritually and mentally. They seek more comfortable lifestyles, greater health, stronger relationships, improved appearance.
Yoga offers the capacity to attain all of these goals, and more!
The opportunity to take a stance is now—to end suffering, sorrow and pain and to enjoy peace, truth and purpose. To engage in the attitude that will materialize a stronger figure while facilitating challenges and attaining the benefits of gainful living.
By helping to better structure the physique, Healing Hands can help restore the vital balance that yoga provides.
Bring together mind, body and spirit to embrace yoga. It begins Now! Through yoga at Healing Hands, the time to sculpt the body inside and out is today.
Healing Hands provides a licensed massage therapist, Ayurvedic practitioners, a wellness coach and a health mentor with more than 20 years of experience in the wellness industry. It specializes in Ayurvedic treatments and body reeducation to treat pain, attain balance and achieve quality of life. Healing Hands instructs spas in Ayurvedic treatments and advanced massage techniques, as well as conducts wellness seminars. 305-810-8534.