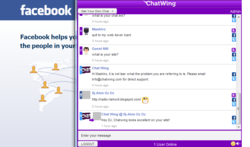 Portland, OR (PRWEB) May 10, 2012
Online dating communities are common nowadays because of the websites and blogs created for the premise of social connection. It is evident that many people are looking for activity partners, dates, and relationships online. Recently, Chatwing has launched an efficient chat widget that can help people find dates in online communities. Adding to that, a Facebook integration feature is also now available.
Through the Facebook integration feature, Chatwing users can now log in using their Facebook accounts. This makes information exchange easier, compared to other chat applications that don't have Facebook or any social network integration. Some bloggers who used Chatwing have noticed that the chat box is still speedy, despite the fact that Facebook sometimes consume a lot of bandwidth. This simply means that Chatwing's developers are constantly working to maintain the chat box's efficient service.
Since Chatwing is a widget, it can also be installed to most blogs and websites. This is a wise move because a blogger can use the Chatwing chatrooms to communicate with his blog visitors. In this way, the blogger can engage his visitors and they will keep coming back in a regular basis. Installation of the Chatwing widget is fairly easy. First, the user must register his blog or website's domain name. After that, he can now proceed to customization. He can customize the height, width, color, and title of the widget. Once the customization part is over, the user can now embed the HTML code to his blog or website. The widget usually goes live in just few seconds.
Chatwing users, especially those ones looking for dates, can definitely benefit a lot from the premise of website chat. Through this premise, people can meet each other in just few clicks. This is the specialty of Chatwing. To add spice to any topic or discussion, people can use emoticons and avatar displays. In the latest version of Chatwing though, the avatar display is smaller to accommodate more messages.
Users who want to check out the specifications of the Chatwing shout box can go directly to its main page. Alternatively, users can also visit Chatwing's Facebook page for updated content.
About Chatwing.com
Chatwing.com has developed live chat software for websites and blogs. It caters to different online communities due to its high rate of connectivity. Everyone can create a customizable live chat box feature in 1 minute or less. Users have the ability to customize the shout box size, color, and fonts of the chat product. The ability to chat via social media accounts such as Facebook and Twitter enable Chatwing to offer a personal and unique real-time experience to all sites. Chatwing is 100% free and very easy to use.