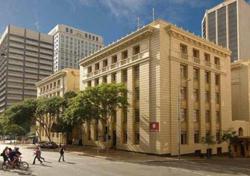 Brisbane, Queensland (PRWEB) May 12, 2012
These exciting developments include two soon-to-be-built Brisbane hotels under the Clarion Collection brand, the launch of the 'Best Internet Guarantee Rate', an increased focus on rewarding frequent guests through the Choice Privileges loyalty program and continued commitment to CHA's Melbourne based Reservations Call Centre.
Having stepped into the role of CEO on 1 April 2012, Fraser has demonstrated his commitment to CHA through his plans to continue investing in the Choice Hotels brands, with a focus on brand standards and franchisee satisfaction.
While many hotel groups have struggled in the wake of the Global Financial Crisis and current economic uncertainty, Choice Hotels Australasia has seen positive growth with a seven per cent increase in RevPAR (revenue per available room – the hotel industry's measure of performance, calculated by multiplying a hotel's average room rate by its occupancy rate) across the portfolio.
"Choice Hotels is continuing to see an increase in both guest bookings and hotel franchise acquisitions with external factors such as the resource boom in Queensland and Western Australia growing demand within the mid-market accommodation sector.
"When times are tough, consumers seek value for money and a trusted brand. In turn, hotel owners are in need of a brand to tap into consumer needs," said Fraser.
Fraser, who has been at the forefront of property growth for CHA throughout his seven year tenure, admits that the path forward will be a challenging one, but believes the current marketplace reinforces the need to deliver consumer value, remain innovative, and continue investing in the company's brand standards.
With the high Australian Dollar continuing to tempt thousands of Australians to holiday overseas, coupled with international visitor arrivals remaining unstable, Fraser has announced a number of initiatives for 2012 and beyond, to take the Choice Hotels brands forward. These include:

Two new Brisbane hotels by the middle of 2013 – these hotels will assist in alleviating the high demand for mid-week Brisbane accommodation.
A 'Best Internet Rate Guarantee' at choicehotels.com.au ensuring guests can book with confidence and always receive the Best Available Rate at any of Choice Hotels 200+ properties across Australia from Brisbane airport accommodation to holiday accommodation in Hervey Bay.– or get that night free!
A suite of new offers and promotions throughout the year for consumers via Choice Privileges, the Choice Hotels global loyalty program, the current offer being "stay two separate times, earn one free night"
Continued support for Franchisees and loyal guests with ongoing investment into CHA's Melbourne-based Reservations Call Centre – CHA is one of the only hotel operators in this region to offer a local call centre
"I have set some ambitious goals and objectives, but with the support of my strong management team I'm excited about the future prospects for our business and Franchisees," said Fraser.
Prior to his CEO appointment, Fraser (who also serves on the board of Tourism Accommodation Australia) was CHA's General Manager Franchise Services & Development, which saw him manage and direct the Franchise Services and Development function.
Fraser has held a number of executive leadership roles and brings with him over 20 years' experience in the tourism and hospitality industry, including a 14 year career with Southern Pacific Hotel Corporation.
Choice Hotels Australasia has 280 hotels across Australia, New Zealand and Singapore, with in excess of 14,000 rooms. CHA is a 100 per cent owned subsidiary of Choice Hotels International, a publicly listed (NYSE: CHH) company in the United States with more than 6,100 hotels and 495,000 rooms in more than 30 countries and territories.
ABOUT CHOICE HOTELS AUSTRALASIA
Econo Lodge, Comfort, Quality, Clarion, Clarion Collection, Choice Hotels Australasia, Choice Priviliges and Choice Hotels are proprietary trademarks of Choice Hotels International, Inc. Choice Hotels Australasia is part of Choice Hotels International, which franchises more than 6,100 hotels worldwide including more than 280 in Australia, New Zealand and Singapore. For bookings and information contact 13 2400 in Australia or 0800 803 524 in New Zealand.