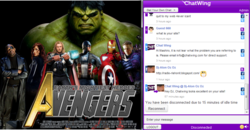 Austin, TX (PRWEB) May 10, 2012
Austin, TX – After saving the world, the Avengers are still a hot topic in many websites and chat applications all over the Internet. This is because of the movie's gross success that has inspired many fans in different countries. Fans of Avengers are also gathering now in a free chat widget known as Chatwing. This widget has been known as the cradle of varying topics, and is versatile enough to handle any type of discussion.
Chatwing offers a renewed opportunity for people to engage in effective and entertaining website chat. In fact, this is the main reason why many bloggers have begun using the chat tool ever since its early release. Fans can now gather and discuss the things they like. They can also use Chatwing with the help of Facebook. Through Facebook integration, Chatwing chatters can now log in with their Facebook accounts. The chat box enables people to connect with each other easily. Also, Chatwing's developers were keen enough to create a chatting platform that can handle Facebook's varying bandwidth.
Movie bloggers are also flocking in Chatwing, especially those ones who watched the Avengers in big screen. These bloggers have realized that Chatwing can help them connect with other fans and probably exchange opinions and suggestions. Avengers fan fiction writers are also big additions for the Chatwing shout box. This online gathering may be compared to a real time party where people can be open with many imaginable things. "That is Chatwing's purpose: effective communication. Now, even Avengers fans are now talking about their jive. They discuss Iron Man's suit, the Hulk, the beauty of Black Widow, and even Thor's finesse-laden hair. It's really a blast," says Ivan Diamond, one of Chatwing's developers and a self-confessed Avengers fan.
People also loved Chatwing's array of emoticons and avatar displays in chatrooms. These embellishments were created to make any topic or conversation interesting. Chatwing also boasts an easy installation mechanism. With that, users can now proceed to chatting instead of spending a lot of time in the installation process.
About Chatwing.com
Chatwing.com has developed live chat software for websites and blogs. It caters to different online communities due to its high rate of connectivity. Everyone can create a customizable live chat shout box feature in 1 minute or less. Users have the ability to customize the size, color, and fonts of the free shout box. The ability to chat via social media accounts such as Facebook and Twitter enable Chatwing to offer a personal and unique real-time experience to all sites. Chatwing is 100% free and very easy to use for any webpage.