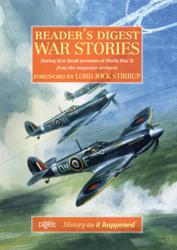 If we are to understand history it is no good just looking at key dates and major events. We must understand the people who took part in them...Only then does the past come alive - Lord Jock Stirrup
(PRWEB UK) 12 May 2012
More than 20 facsimile articles from the archives of Reader's Digest magazine, Reader's Digest War Stories, mixes first-person stories with individual profiles of wartime leaders, a feature on Winston Churchill's War Rooms, Cornelius Ryan's Untold Stories of D-Day and more. My Ride on a Torpedo, by the captain of the destroyer St Laurent in 1940, describes how his quick thinking saved an entire ship when a 600-pound warhead of TNT broke loose on deck. Night Train to Chittagong tells of a dangerous railway journey from Bengal. And Harry Secombe recalls his call-up and departure for active service from Waterloo station, in 1942. The articles offer a fascinating and nostalgic glimpse of the personal side of war, all recounted in inimitable Reader's Digest style.
In her Introduction, Reader's Digest magazine Editor-In-Chief Gill Hudson explains that many of the articles have come from the readers themselves. "Many of the articles come from winners of the Reader's Digest 'First Person' Award. The award was given for 'true and hitherto unpublished' stories that were 'adventurous, humorous, dramatic or inspirational' and World War II provided a rich stream."
In the book's foreword, Air Chief Marshal The Lord Stirrup explains that "If we are to understand history it is no good just looking at key dates and major events." The Chief of the Defence Staff from 2006 to 2010, who began his career as an RAF fighter pilot and saw action in the Dhofur War, goes on to say that, "We must understand the people who took part in them: how they felt, how they thought, and how they behaved. Only then does the past come alive in a way that enables us to understand it and relate to it. Only then does history tell us something meaningful about who we are and where we come from."
Readers Digest War Stories: Daring first-hand accounts of World War II from the magazine archives (RRP £9.99; ISBN 978-1-78020-101-6), is available in June 2012.
Ends
Notes to the editor

For further information including extracts, review copies or reader offers please contact Sandra Gilmore, F&W Media International Publicity, on 01626 323293 or email sandra.gilmore(at)fwmedia(dot)com.
Reader's Digest War Stories, is one of two History as it happened titles from Reader's Digest for 2012. May 2012 saw the release of companion title, Reader's Digest & the Royals.
F&W Media International is an award-winning publisher and distributor of illustrated non-fiction books on a wide range of topics including history, hobby, craft and photography. The company publishes and distributes more than 100 titles a year for David & Charles, Dover, White Star, Reader's Digest and other imprints.