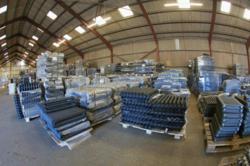 A visit to the Paladin Workshop is definitely worth while, especially if you are planning to purchase a cast iron radiator that you wish to compliment your home perfectly.
(PRWEB UK) 12 May 2012
Over the past 10 years Paladin Radiators has grown year upon year and enjoys the accolade of being the leading UK manufacturer of cast iron radiators. With this extensive growth it has been necessary to relocate to new premises, in total over 30,000 square feet, in order to supply the demand as it has grown and to be able to warehouse the large stock quantities required to maintain a consistent supply when needed.
Helen Proctor, Managing Director remarked "Paladin Radiators pride themselves on offering the largest selection of heritage style cast iron radiators, perfect for a period of home or indeed for the contemporary setting." With such a diverse selection, stock levels are maintained high at all times and at any one time there is over 600 tons of cast iron radiator sections in stock to avoid disappointment for any supplier requiring a large amount of heritage style radiators for a substantial contract. Lead times offered are now 7 days from order for all metallic and plain painted finishes. A delivery date option is given to every client upon order; there is minimal waiting time as the Paladin Team recognises the need for fast turnaround times required for individual projects waiting for cast iron radiators.
With the extensive new spray booths and commercial drying room the Paladin team members can spray and dry over 800 sections per day. Paladin has also prided itself on the many new and exciting paint effects that really enhance the look and detail of a cast iron radiator. With the new extensive premises and equipment Paladin now has space and capability to experiment further to widen the choice of paint effects offered. The favourite effects over the years have been the hand antiqued effects and the stunning high light effects.
Within the new Paladin Workshop there is also a marketing suite which houses a full and splendid display of the full cast iron radiator range offered by Paladin along with the custom built traditional towel rails which have become more and more popular, incorporating the cast iron radiators. The choice is immense and each visitor enjoys the comfort of the marketing suite as well as the guided tour around the workshop to see the radiators being transformed into beautiful pieces of functional art. Many clients who visit see the extensive work which goes into creating a cast iron radiator from building to the individual finishes offered which are all completed by hand as in the first original workshops set up in the mid 1800,s in UK, when the cast iron radiator was first invented.
A visit to the Paladin Workshop is definitely worth while, especially when planning a purchase of cast iron radiators to compliment period homes. The Paladin Team, all based at the new Paladin Workshop, are on hand to provide their expertise in heating requirements, final finish and style choice, with over 10 years of experience to draw upon.
Contact Paladin Radiators today and book an appointment to view the Paladin ranges, exciting design ideas and paint finishes as well as the age old procedures of building and creating a Paladin cast iron radiator by hand at their new workshop premises.