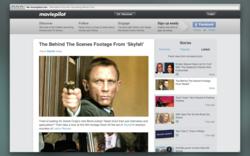 Berlin, Germany (PRWEB) May 10, 2012
Movie recommendation and discovery platform Moviepilot.com has today announced the completion of its $7 million Series B financing, led by leading venture capital firm DFJ Esprit, and continued participation from existing VC funds T-Venture, Grazia Equity and VC Fund Creative Industries Berlin. The funding underpins the company's US expansion, strengthens the platform's position as the leading fan resource for new film projects and reinforces its ambition to revolutionise the way movies are marketed and distributed.
Launched in October 2011, Moviepilot.com is a platform built to help movie fans around the world discover upcoming projects and keep track of their development from pre-announcement rumours and speculation right through to theatrical release. The platform acts as the first 'online home' for movies, giving fans a place to gather often long before official homepages are created. In doing this, Moviepilot identifies and engages a movie's online fanbase, collating valuable feedback and data for major movie studios to use to better market their projects to their core audience. The platform in this way finds the right film for any audience and the right audience for any film.
"With the new funding secured and the move to Los Angeles coming up, this quarter marks the most significant milestone in the history of Moviepilot to date," commented Tobi Bauckhage, Moviepilot CEO and co-founder. "The campaigns we have already run on behalf of the world's biggest studios have given us a fantastic base to further develop our brand of social marketing services for movies."
To date, Moviepilot has helped studios like Twentieth Century Fox, Universal, Disney and Paramount in the US and worldwide to successfully connect with their core audiences and increase 'word-of-mouth online' buzz on movies such as "Chronicle". Moviepilot.com and sister site Moviepilot.de have a combined Facebook fanbase of 5.4 million, making them the social network's largest movie fan communities.
"Box-office weekend performance is the key to a film's success just as it is the focus for true film fans everywhere, combining a social experience with months of anticipation. Moviepilot brings these two elements together in a unique way through its platform. It leverages the social graph to build film fans' anticipation and to target film studios' promotional activities at the right fans ahead of, and around, box-office weekend," commented Krishna Visvanathan of DFJ Esprit. "It has already had impressive success with the Hollywood majors and with its unique model and ambitious growth plans, Moviepilot makes a very attractive global business for DFJ Esprit's investment and support."
Moviepilot was founded in 2007 by filmmakers Tobi Bauckhage and Jon Handschin (CPO), as well as former OMDB founder Benjamin Krause (CTO). The company is headquartered in Berlin, Germany, employing over 50 people. In January 2012 the London office opened, headed by former International Advertising Sales executive at IMDB Claire Holland. The Los Angeles office is scheduled to open later this year, with recruiting of a dedicated US sales team currently underway. The company had previously received funding from Grazia Equity, Passion Capital's Stefan Glanzer, VC Fund Creative Industries Berlin (managed by IBB Beteiligungsgesellschaft) and T-Venture, the Venture Capital Company of Deutsche Telekom, who also use Moviepilot.de to deliver its German TV audience with personalised TV recommendations. One of the investors and active advisors to the company is Peter Read, who previously ran Nielsen Entertainment, working closely with all the major movie studios in Los Angeles.
DFJ Esprit has over US$ 1.1 billion of funds under management, chiefly focused on European high growth companies. Earlier this week, DFJ Esprit announced its Series A funding of SportPursuit. The VC was a key investor in LOVEFiLM, which was successfully acquired by Amazon last year.
About Moviepilot
Founded in 2007 by CEO Tobi Bauckhage, CPO Jon Handschin and CTO Benjamin Krause, Moviepilot provides customisable, personal entertainment guides built on individual users' tastes. With a staff of over 50 across offices in Berlin, London and Los Angeles working closely with the world's leading movie studios, Moviepilot's German and International web platforms provide intelligent recommendations to fans and detailed sentiment measurement to studios. The company encompasses both the original Moviepilot.de and newly launched Moviepilot.com.
About DFJ Esprit
DFJ Esprit is a leading cross-stage venture capital firm that invests from seed to late stage in European technology and media companies. Members of the DFJ Esprit team have experience of investing in over 200 companies and generating strong returns for investors through building valuable companies alongside the founders and management teams. DFJ Esprit is the exclusive European partner for Silicon Valley-based VC, Draper Fisher Jurvetson, which has $7 billion under management and offices in over 30 cities around the world.
http://www.dfjesprit.com