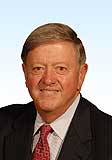 "With his leadership and innovative thinking MRIS will take its services and offerings to the next level for its customers, not only regionally but nationally."
Rockville, MD (PRWEB) May 10, 2012
Today, Metropolitan Regional Information Systems(MRIS), the Mid-Atlantic Multiple Listing Service (MLS) that facilitates more than $100 million a day in real estate transactions, is pleased to announce new leaders to the Board of Directors. MRIS's vision is well underway for 2012-2013, honing its attention on continuous growth through the advisory leadership of the new Chairman of the Board, Thomas M. Stevens, and Vice Chairman, Jon Coile.
"It's an exciting time for MRIS as we continue to innovate and bring more value to our stakeholders and customers around the Mid-Atlantic region," said David Charron, MRIS president & CEO. "MRIS relies on the guidance of the industry's most experienced and successful leaders to help transform the real estate industry."
The newest members of the Executive Committee bring many years of business leadership experience to MRIS. Leading the Board is former president of the National Association of REALTORS® (NAR), Thomas Stevens.
Mr. Stevens has served on the MRIS Board of Directors since its inception in 1993 and has held many other leadership positions throughout his career including 2006 President of the National Association of REALTORS®, President of the Virginia Association of REALTORS® in 1989 and Northern Virginia Association of REALTORS® President in 1985. He was Regional Manager/Senior Vice President for Shannon & Luchs Company for 17 years. In the 1990's, he purchased Coldwell Banker, forming Coldwell Banker Stevens REALTORS® which operated throughout the Washington, D. C. metropolitan area to Baltimore and held the distinction as one of the fastest growing full service real estate companies in the United States during the 1990's. Mr. Stevens is still with Coldwell Banker and is also presently owner/principal and plays an active role in the following entities: Stevens Companies, LLC, managing partner; Service First Insurance, Chairman of the Board; Valley Development, Inc., Chief Executive Officer. In addition, Mr. Stevens continues to serve on the NAR Board of Directors, his 25th year.
"Tom Stevens has time and time again demonstrated his leadership abilities within our industry and most recently as President of the National Association of REALTORS®. It is exciting to now see him take the helm as MRIS's Chairman of the Board, one of the largest MLS/technology companies in our industry," said Wes Foster, founder, chairman and chief executive officer of The Long & Foster Companies. "There is no doubt with his leadership and innovative thinking that MRIS will take its services and offerings to the next level for its customers, not only regionally but nationally."
Mr. Coile is CEO of Champion Realty, Inc., the Maryland partner company of HomeServices of America, Inc., a Berkshire Hathaway affiliate. Mr. Coile is a real estate brokerage company leader with broad hands-on experience in all operational areas of a full service real estate company including residential sales and leasing, commercial sales and leasing, mortgage, title, insurance, relocation, property management, marketing, IT, accounting and finance. He is also on the Boards of The Realty Alliance, HomeServices Lending, LLC, and Talisman Therapeutic Riding. He was a member of the MRIS Board of Directors from 2001-2005 and again since 2010.
"MRIS has been in the forefront creating a best-in-class MLS for our agents, our sellers and our industry," said Ron Peltier, chairman and CEO of HomeServices of America. "Jon Coile is a thought leader within the HomeServices network of companies and I am confident that he will bring a global perspective to his role as Vice Chair."
ABOUT MRIS
MRIS is real estate in real time™, enabling its customers to list and sell nearly $100 million in real estate each day. In 2011, the company facilitated $33.6 billion in cooperative broker sales. A leading systems developer and integrator of real estate information technology and databases, MRIS connects its customers with timely, accurate and actionable data with a growing portfolio of technology solutions. This includes broker and agent software products, an industry-leading consumer real estate portal, HomesDatabase.com and many others. MRIS also showcases unique homes and offers tailored community information through its online television network, mrisTV.com. Behind the scenes, the CURE Solutions Group subsidiary of MRIS provides back-end technology to other MLS systems through CURE, a proprietary solution. MRIS serves nearly 45,000 real estate professionals spanning a 22,000 square mile section of the Mid-Atlantic region, including Maryland, Virginia, Washington, D.C. and markets located in Pennsylvania and West Virginia. Visit MRIS at MRIS.com, "Like" us on Facebook.com/MRISonFB, and follow us on Twitter, @MRIS_REal_News.