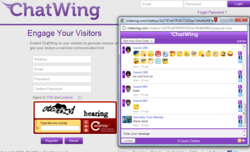 Seattle, WA (PRWEB) May 10, 2012
Everyday, there are hundreds and thousands of blogs being created all over the Internet. Despite this rate, it is evident that a large percentage of these blogs become inactive in just a matter of days or weeks. To make a blog active and drive a wedge against competition, beautiful content must be integrated side by side with a reliable application. Chatwing's developers are determined to improve the blogging niche. Recently, they launched a reliable chat widget that can help amateur bloggers make their mark.
Chatwing, at first, may look similar to other chat widgets out there. It also looks simple and has a relaxing purple color theme. However, this rate of simplicity and straightforwardness has generated a lot of sign-ups, few weeks after Chatwing was released. In the latest version of the Chatwing app, people can now use a Facebook log-in method to ease up the process of personal information exchange. Adding to that, Chatwing users can also log in using their Twitter accounts.
Chatwing's developers have conducted a short but thorough research when it comes to the visibility boost that Chatwing chatrooms can offer for any blog. They have observed that blogs with Chatwing have gradual build-up of hits in just a week prior to installation. The rate usually doubles up if the content of the blog is really useful and interesting. Chatwing's developers believe that website chat is really important for any blog or website, regardless if they are start-ups or already elites in the industry.
The installation process of the Chatwing shout box is easy and doesn't take much time. First, the user must register his blog or website's domain name. Following that is customization. Now, he can choose to edit the height, width, color, and title of the widget. If he is finished, the user can now retrieve the HTML code needed for the embedding process. The widget will go live in just few seconds.
Bloggers who want to try out Chatwing can know more by visiting its main website. There, an embedded chat box is ready for try-outs. Also, Chatwing's Facebook page is frequently updated with useful content.
About Chatwing.com
Chatwing.com has developed live chat software for websites and blogs. It caters to different online communities due to its high rate of connectivity. Everyone can create a customizable live chat box feature in 1 minute or less. Users have the ability to customize the size, color, and fonts of the chat product. The ability to access chatrooms via social media accounts such as Facebook and Twitter enable Chatwing to offer a personal and unique real-time experience to all sites. Chatwing is 100% free and very easy to use.