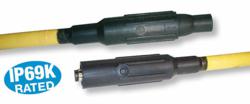 The newly designed locking cam lock is second-to-none when it comes to performance, quality and safety.
Independence, OH (PRWEB) May 14, 2012
TPC Wire & Cable Corp. launched a new molded assembly capability for temporary power applications to its current line of custom engineered products. What makes this product unique is the fully molded locking assembly attributes, the IP69K rating, and the variety of sizes that are available.
The locking connector is completely intermateable with existing Navy specified plugs and receptacles. It is a fully molded design which provides a complete bond between the cable jacketing and connector head. The locking cam lock has been "pull tested" to 2000 lbs. and contains a safety feature to prevent unintended disconnection. To disconnect, depress the safety release, one quick turn, and the connector can be easily changed out. This assembly carries the IP69K environmental rating where products are subject to high pressure spray and must not allow ingress of water. The locking cam lock can accommodate cable sizes up to 750 MCM and is available in various colors for power / phase identification.
There are many applications that can benefit from using a locking cam lock molded assembly including ship to shore power, Navy ship building and repair sites, gas/diesel powered generators, or any other situation where temporary power is a necessity. TPC recommends using Super-Trex® brand weld or power cable to complete the locking cam lock assembly and be the first line of defense against oils, ozone, chemicals and UV exposure.
"The newly designed locking cam lock is second-to-none when it comes to performance, quality and safety," explains Jeff Kramer, Director of Engineered Products.
Superior performance is a function of construction, materials, and matching the right cable accessory to the application. TPC provides high performance problem solving products, custom engineered products, and a dedicated team of sales professionals. Boasting a 96% on time delivery performance, TPC's deep inventory levels allow for quick delivery.