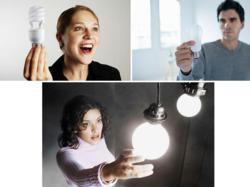 CFL Bulbs bulbs can slow the development of myopia. This is a much more cost effective treatment method when compared to resorting to gene therapy or pharmacology that can cost millions of dollars and take years to produce any results
Brooklyn, NY (PRWEB) May 10, 2012
Around 40% of adults in America are afflicted with nearsightedness or myopia that is often responsible for blindness. Breakthrough research at the University of Alabama at Birmingham revealed that in tree shrews (close relatives of primates), introducing tiny increments in the daily dose of artificial light that they were exposed to, slowed the development of nearsightedness by as much as 47%.
Professor in the UAB Department of Vision Sciences,Thomas Norton, PhD who leads the team presented the results of this study in Ft. Lauderdale at the 2012 Association for Research in Vision and Ophthalmology annual meeting on May 8. Says Norton, "Compact fluorescent bulbs are much more energy efficient when compared with standard light bulbs and if we could find the best treatment period, level, and the best kind of light, this could have a bigger impact in dealing with myopia."
The causes of myopia are both genetic as well as environmental. Studies indicate that there was a reduced incidence of myopia in children who spent more time outdoors and this raised the questions whether artificial light could have the same effect of reducing the development of myopia without the risk of developing cataracts, skin cancer, and other risks associated with prolonged sun exposure.
A lighting expert at BulbAmerica.com says, "This recent development spells great news for myopic people as we stock a number of different types of CFLs (Compact Fluorescent Light Bulbs) from a wide array of manufacturers." Past studies which show that elevated fluorescent light levels, be it daylight or the light produced by halogen lamps or metal halide bulbs can slow the development of myopia. This is a much more cost effective treatment method when compared to resorting to gene therapy or pharmacology that can cost millions of dollars and take years to produce any results. Ongoing research experiments to study the effect of elevated light on retinal dopamine levels and other studies regarding the efficacy of a short, bright light treatment may hold the answers to a suitable method for the prevention of myopia.
BulbAmerica, the largest wholesale provider of quality lighting fixtures and light bulbs in the United States has been a part of the industry for almost a decade now. They are renowned for offering quality products that include fluorescent, halogen light, LED, CFL, and incandescent bulbs, projector lamps, and various LED lighting options including LED strips. For more information about the light bulbs that they offer at BulbAmerica, visit http://www.bulbamerica.com or call 1-877-650-0775.