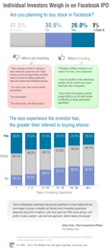 (PRWEB) May 10, 2012
Facebook's widely anticipated IPO is roughly a week away, but individual investors are still largely divided—and undecided—on whether or not to invest in the social media giant, according to a survey conducted by The Motley Fool, an online community at http://www.fool.com dedicated to helping the world invest better.
The survey found that investors with less than one year's experience investing are roughly twice as likely to invest in Facebook as investors with more than 20 years' experience. Four out of ten (39.5 percent) novice investors said they plan to buy Facebook shares versus just two out of ten (22.2 percent) investors with a couple decades of investing under their belt.
Andy Cross, The Motley Fool Chief Investment Officer said, "For individual investors, Facebook is not an adult swim. The social media juggernaut's IPO party will bring a lot of new investors into the pool, while the more experienced investors hang out on the deck chairs. Fans of Facebook (those more than 900 million users) understand the growth potential of social media so they may be eager to jump in even though they may not have much investing experience. Seasoned long-term investors, who have seen hot IPOs come and go, will prefer to take a patient, wait-and-see approach, before taking the plunge."
Overall, nearly one-third (30.6 percent) of individual investors are not planning to invest in Facebook; reasons include:

Company is overhyped and overvalued.
Business model is too much of a mystery and unsustainable.
Investor has a general rule of steering clear of IPOs.
While just over a quarter (26.0 percent) of individual investors are planning to invest in Facebook; reasons include:

The company is the dominant leader in social media with staying power.
Social media is undervalued by Wall Street.
The company is a good portfolio fit for growth.
Meanwhile, four out of ten (42.5 percent) individual investors are still undecided about whether or not they are going to invest in Facebook.
Added Andy Cross, "Smart investors know to wait for the smoke to clear and evaluate Facebook after the frenzy dies down. IPOs are full of short-term traders and lots of excitement and noise. Facebook's will be front-page news so the Average Joe Investor needs to be patient to prevent getting burned."
Note to Editors: Results are based on responses from 4105 individual investors that are part of The Motley Fool investing community, May 4-7, 2012.
For more information or to schedule an interview with Andy Cross, Chief Investment Officer with The Motley Fool, contact Alison Southwick at asouthwick(at)fool(dot)com or 703-254-1475
About The Motley Fool (http://www.fool.com): Founded in 1993 in Alexandria, VA., by brothers David and Tom Gardner, The Motley Fool is a multimedia financial-services company dedicated to helping the world invest better. Every month, millions of savvy investors rely on the Motley Fool's expertise and guidance through Fool.com, The Motley Fool book series, newspaper column, subscription investment advisory services and media appearances.