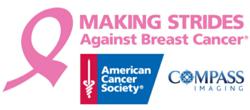 We hope to raise enough money so that we can help all of the local women in need.
Gulfport, Mississippi (PRWEB) May 10, 2012
Compass Imaging in Mississippi announces that they will be working with the American Cancer Society to raise money for uninsured women to receive free mammogram screenings in October 2012.
By sponsoring the Memorial Tent at the upcoming American Cancer Society's Making Strides Against Breast Cancer Walk, Compass Imaging will be a part of the great work promoting breast cancer education and early detection by being a part of the support programs built for cancer patients, survivors and their families. The Compass Imaging team will be working at the "In Honor & Memory" sponsorship tent and will be speaking at the Corporate Breakfast and Event during the opening ceremonies.
Marketing Representative, Tony Giardina comments saying, "We were beyond excited when the American Cancer Society approached us with this opportunity, we value all of our patients, especially our women's imaging patients, having the opportunity to help women in need of our services is going to be beyond rewarding. We hope to raise enough money so that we can help all of the local women in need."
The main focus of Compass Imaging's partnership with the American Cancer Society's event, will be to recruit participants and build involvement while raising money to be donated to uninsured women in need of mammograms. With over 211,240 women in the U.S. being diagnosed with breast cancer each year, Compass Imaging knows that early detection is key to treatment, survival and a cure.
About Compass Imaging
Compass Imaging provides a variety of Radiology services including MRI, CT, X-Ray, Digital Mammography, Ultrasounds and Bone Density at two locations in Gulfport and D'Iberville, Mississippi. All of the procedures are stored digitally, allowing the Board-Certified Radiologists to make more accurate diagnoses. In 2002, Compass Imaging opened the first and only Open MRI facility on the coast. In years since, Compass has perfected the science of providing quality care without sacrificing a uniquely personal level of service. Compass Imaging is also the only outpatient imaging facility on the Gulf Coast to be accredited by the American College of Radiology for MRI, CT, Mammography and Ultrasound services.