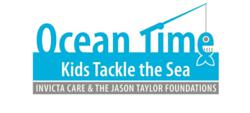 "Our hope is to provide children with the opportunity to set aside the struggle of illness and allow them to enjoy a day on the Water, providing them time to disconnect from the hospital and experience time on the Ocean as a form of therapy for their soul
(PRWEB) May 11, 2012
The Invicta Care and Jason Taylor Foundations have teamed up to establish the "Ocean Time Project." This project has been founded with the mission to improve the lives of children facing serious illness.
With a passion for the sea and fishing, Invicta Watch CEO, Eyal Lalo and All Pro, Jason Taylor, have established a commitment to young people. This partnership is dedicated to getting children out of hospital beds, and offering them a day out in the open Ocean for cruising and fishing.
Specifically serving children in South Florida, both foundations are working with the Holtz Children's Hospital at the Jackson Memorial Medical Center. To ensure safety, the children will be selected by a medical panel from the hospital.
Eyal and Jason have committed their personal fishing boats for use in this project, at no cost to the foundation. A child will attend their Ocean Time with one guest (parent, sibling, etc.). A registered captain will oversee all trips. Schedules permitting, Jason and/or Eyal will accompany the children on their voyage. In special cases where a medical professional must be in attendance, accommodations will be made.
Jason Taylor and Invicta CEO, Eyal Lalo explain, "Our hope is to provide children with the opportunity to set aside the struggle of illness and allow them to enjoy a day on the Water, providing them time to disconnect from the hospital and experience time on the Ocean as a form of therapy for their souls."
For more information about Invicta Care, please visit: http://invictawatch.com/invicta/invicta_care
For more information on The Jason Taylor Foundation, please visit:
http://www.jasontaylorfoundation.com
For More Ocean Time Project Information, Contact:
Seth Levit
954.424.0799