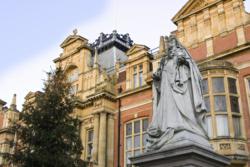 It shows incredible resilience that during a double dip recession, Leamington has beaten the company formation record set during an economic boom
UK (PRWEB UK) 11 May 2012
Bristol: Company formations experts duport.co.uk have found that 164 new companies were formed in Leamington in the first 3 months of 2012, a 10% increase on the previous record of 149 set in 2007.
"Not only is this great news for Leamington," said Peter Valaitis, Managing Director of duport.co.uk "but it shows incredible resilience that during a double dip recession, Leamington has beaten the company formation record set during an economic boom."
This announcement comes after the Office for National Statistics published a profile of the Warwick and Leamington area, finding that employment and pay were above the national average.
According to the report, only 2.5 per cent of people in Warwick and Leamington are claiming Jobseekers Allowance, compared to the national average of 4%. It also showed that average wages in Leamington and Warwick were £1.99 per hour higher than the national average of £12.77.
Chris White, Warwick and Leamington's Conservative MP stated: "The figures show we are certainly moving in the right direction. It is interesting to see how we relate to others. We have all got a role to play in making sure our local economy looks as attractive as possible – to new businesses and existing businesses."
The redevelopment of a former factory site could also be part of Leamington's recent entrepreneurial drive, with a £25million investment into the old AL-KO Kober site, which has been unused for 12 years.
With new start up company formations hitting a record high for the quarter, and positive stories in employment and wages from Office for National Statistics records, Royal Leamington Spa looks set for a year of entrepreneurship and growth.
Duport Associates Ltd is a leading UK company formation agent, operating in the UK for around 15 years. Duport registers around 10,000 new companies each year using its Companies House approved software. The Company Register which is maintained by Companies House contains public information about Limited companies and directors.