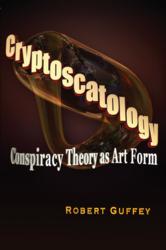 People who enjoyed such conspiratorial books as Jon Ronson's The Men Who Stare at Goats will learn about the little-known ties between the Unabomber and the CIA, intelligence propaganda and the origins of science fiction, mind control and the…
Walterville, OR (PRWEB) May 14, 2012
TrineDay is pleased to announce the publication of Robert Guffey's debut non-fiction book, Cryptoscatology: Conspiracy Theory as Art Form. Examining nearly every conspiracy theory in the public's consciousness today, this investigation seeks to link seemingly unrelated theories through a cultural studies perspective.
While looking at conspiracy theories that range from the moon landing and JFK's assassination to the Oklahoma City bombing and Freemasonry, this reconstruction reveals newly discovered connections between wide swaths of events. Linking Dracula to George W. Bush, UFOs to strawberry ice cream, and Jesus Christ to robots from outer space, this is truly an all-original discussion of popular conspiracy theories.
People who enjoyed such conspiratorial books as Jon Ronson's The Men Who Stare at Goats will learn about the little-known ties between the Unabomber and the CIA, intelligence propaganda and the origins of science fiction, mind control and the American public school system, genetically-engineered cows and genocide in the Middle East, microwave weaponry and the reanimation of the dead; the influence of secret societies on revolutions, wars, and political assassinations; the always bizarre world of UFOs; and much, much more.
Cryptoscatology is being delivered to bookstores in May of 2012.
Award-winning author Robert Guffey is a lecturer in the English Dept. at California State University–Long Beach. He has published numerous articles, short stories and interviews in a wide range of publications such as After Shocks, Art From Art, Catastrophia, The Chiron Review, Fortean Times, The New York Review of Science Fiction, Paranoia, Pearl, Postscripts, and UFO Magazine. His website is http://www.cryptoscatology.com
TrineDay is a small publishing house in Oregon that specializes in suppressed non-fiction.
For interviews or review copies, please contact:
Kris Millegan -- 1.800.556.2012 -- publisher(at)trineday(dot)net
Publisher
TrineDay