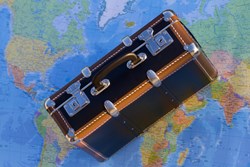 London, UK (PRWEB UK) 11 May 2012
Over the last few decades, it has become easier and easier to travel abroad, allowing people to seek out new experiences and adventures all over the world. Unfortunately, these new opportunities also create new problems, and there are a number of health concerns associated with particular destinations or modes of travel. Many people will be familiar with how uncomfortable and disruptive jet lag can be to the start of a holiday, or how motion sickness can ruin a journey. Altitude sickness, though less common, is a very serious concern for those ascending to certain altitudes while abroad. These three travel health issues are now included in the dedicated Travel Health category at euroClinix.
Jet lag can affect anyone who has traveled through multiple time zones. It occurs because the body has difficulty adjusting to suddenly being in a new time zone, and can present as symptoms such as problems falling asleep or staying awake. Anyone who will be traveling to a new time zone can prepare for the possibility of jet lag with the Jet Lag Treatment Pack, which is now available to buy at euroClinix. It contains a melatonin-based treatment to help the body prepare for sleep.
Motion sickness is a very common consequence for people traveling by train, boat, car or airplane. When the brain becomes confused by the conflicting messages coming from the eyes and the vestibular system, symptoms like nausea can arise. It is now possible to buy a range of motion sickness treatments at euroClinix, such as Avomine, Kwells and Scopoderm patches.
Altitude sickness is a possibility for people who ascend to new altitudes too quickly. It is essential to allow time for the body to acclimatise while ascending. Though there are treatments that can be taken as a precautionary measure to help avoid altitude sickness, they are not a substitute for appropriate acclimatisation methods. An example of a medication that can be taken for this purpose is Diamox, which is now available at euroClinix.
euroClinix Company Information
Launched in 2004, euroClinix is a trusted online clinic that provides information, treatment and support to patients across Europe for a number of different lifestyle and medical problems. They offer a secure and confidential way in which to order prescription medications online using a free online consultation that is verified by doctors. Every step of the ordering and delivery service at euroClinix is completely private and discreet.
For more details, visit the website or contact euroClinix on 020 7084 6782 or via email.
euroClinix is a brand name of Hexpress Ltd, PO Box 344, Mont Crevelt House, Bulwer Avenue, St. Sampson, Guernsey GY1 3US.