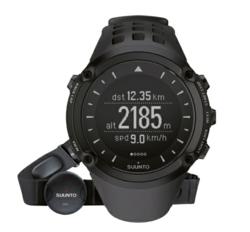 The best thing that consumers who want one can do now is get in orders now for September because this is when Suunto thinks they will have a handle on their inventory
Bozeman, MT (PRWEB) May 10, 2012
The Suunto Ambit GPS watch has been the hottest new product introduction in the GPS watch and fitness markets for 2012 at the Heart Rate Watch Company, but finding one is a challenge.
"Suunto had no idea how great the demand would be for this product and it far exceeded their initial production capabilities," says Rusty Squire, President of the Heart Rate Watch Company. He adds, "We delivered some initial watches but were way over ordered and since early May Suunto has been telling us that new orders will not be filled until September - that is a big gap."
The Suunto Ambit got ultra-runners, mountaineers, cyclists and outdoor adventurers all pumped up about the durability and the features but when hundreds of buyers could not find them they were a bit miffed.
"We've been testing this watch for several months and rated it as our #1 new GPS watch introduction for 2012," states Squire. He continues, "The best thing that consumers who want one can do now is get in orders now for September because this is when Suunto thinks they will have a handle on their inventory."
The black version has been outselling the silver by nearly ten to one at Heart Rate Watch Company and the black version is where the widespread stock out issue exists. "We still have a couple of silver's in stock but they won't last long once everyone figures out that they can't get a black one anywhere," states Squire. He adds, "The best thing consumers can do is get their orders in against the September supply of black units and wait patiently."
According to the Heart Rate Watch Company testers, the new FuseSpeed technology for more accurate speed works great for running but accelerometers don't help much biking because the hands are in a static position. The Suunto Ambit has been very accurate on speed, distance and navigation, plus the altitudes and altitude graphs based upon the barometric altimeter have also shown reliable against USGS data.
Users do have to choose and stick with one of the functions, exercise or navigation, so they cannot cross over between the two during a session with Suunto Ambit.
"We strongly recommend that those who want a Suunto Ambit black get there orders in right away because this is going to be a very popular watch in the 4th quarter and for the Holidays," states Squire.