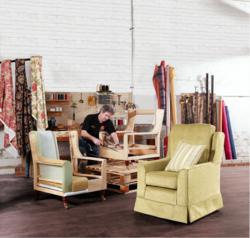 We want customers to be assured that they will be seen by local people, and where possible, their furniture will be lovingly restored by local re-upholsterers
(PRWEB UK) 14 May 2012
Plumbs, specialists in Re-upholstery and Loose Furniture Covers, have launched a further 5 websites as part of their campaign to raise the profile on their local re-upholstery services across the UK. Already they are seeing an increase in local visit requests from customers who search for local re-upholstery services online.
The family run business who have been offering their unique in-home consultancy service nationwide for many years have decided it's time to ensure the British public are aware of the local, personal nature that drives their business. Sarah Page, Managing Director tells us more:
"We currently have 150 Consultants across the UK, enabling us to cover over 98% of the country. We want customers to be assured that they will be seen by local people, and where possible, their furniture will be lovingly restored by local re-upholsterers." She continues, "We often hear from customers how pleased they are to have been able to find a local, personal re-upholstery service."
The pinnacle of the business, Plumbs' Home Consultancy service allows customers to browse a range of fabrics in the comfort of their own home, with free, no-obligation advise from a local, personal consultant. The new web campaign aims to make more people aware of the local re-upholstery services Plumbs can provide in their own area.
The company plan to set up approximately 50 websites, dedicated to their re-upholstery services in major towns and cities across the UK. They began the campaign back in February with Oxford Re-upholstery and continued with Bristol Re-upholstery in March. A further 4 sites have been constructed in recent weeks, with the campaign beginning to show a pleasing result, with 18 extra Home Consultant visits requested in the past month.
Simon Blackburn, Online Marketing Manager, explains the strategy:
"Following research, we have found that people online tend to search for household services, such as ours, on a local level. For example, they would look for 'Re-upholstery in the Isle of Wight or Manchester Re-upholsterers." He continues, "We have noted the most frequently searched local areas, and taken into consideration population in order to come up with a list of 50 core areas that we feel would benefit from learning more about our local re-upholstery services."
Areas of focus for the new websites include Brighton, Edinburgh and Liverpool. Larger areas such as London will see 6 sites each dedicated to a separate district, 'North,' 'Central' etc. Website visitors will be able to link between adjacent areas, finding out more about the local re-upholstery services on offer in their home town or nearby. The same will be true for Re-upholstery Sheffield, for example, which will be linked to Re-upholstery Bradford and Re-upholstery Leeds.
The yearlong campaign is set to increase Plumbs local Home Consultancy awareness and encourage customers to arrange a visit from their own local Consultant. So far Plumbs have setup websites for Re-upholstery in Birmingham, Oxford, Bristol, Sheffield, Isle of Wight and Brighton.
About Plumbs:
Plumbs have around 150 Home Consultants who will visit homes free of charge. The Home Consultants can recommend an appropriate loose covers solution and advise on room colour co-ordination and any other home furnishings such as upholstery, lose covers for sofas, cushion covers and curtains.
Plumbs have over 350 different upholstery fabric designs and colours to choose from, and a range of materials to suit any piece of furniture.
For further information please contact: Hannah Jones on 01772 838 301 or email hjones(at)plumbs(dot)co(dot)uk