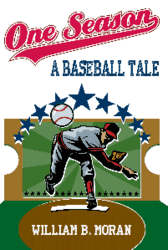 Washington, DC (PRWEB) May 22, 2012
Novelist William B. Moran and Dog Ear Publishing announce they have joined in an agreement to publish his latest book. This captivating major league baseball story is destined to take its place alongside the game's most memorable novels.
Moran pitches his story with a windup and follow-through that prove unforgettable. His characters draw readers into their lives from page one, and readers will pull them right into their own lives as they become brilliantly alive and too real to forget. With his primary character, pitcher John Meek, the author has achieved a rare balance between a life everyone can relate to and a life most only dare to dream about. As these two extremes collide, they create a baseball tale that resonates like the unmistakable crack of a bat connecting for a homerun. "One Season, A Baseball Tale" is a literary gift to baseball fans everywhere.
Synopsis
Only in the world of major league baseball could an ordinary man like John Meek find himself with the extraordinary opportunity to fulfill his childhood dreams. At 45 years old, a serious car wreck left him with a freakishly deformed right arm -- and an unexpected ability to throw pitches that no one had seen before. Unable to resist a spring amateur-day tryout, Meek appeared on the mound in Florida and put away seasoned pros one after the other. From that point on, Meek's middle-class existence evaporated into the rarified atmosphere of major league ball. What followed was a season worthy of baseball's legend-rich history -- a season of tension, challenges and changes for Meek, his family, teammates, and fans. It's a season that climaxes just the way you hope it will, or does it? No true baseball fan will want to miss "One Season."
About the author
Novelist William B. Moran is a federal judge, marathon runner, devoted baseball fan and avid traveler. As a federal administrative law judge he has presided in cases noted in The New York Times and the Washington Post involving the EPA, the IRS, the Bureau of Alcohol, Tobacco & Firearms, the Mine Safety & Health Administration, the Consumer Product Safety Commission, and many others.
About Dog Ear Publishing
Dog Ear Publishing was founded in October 2004 by Miles Nelson, Ray Robinson and Alan Harris to offer independent authors superior, customized publishing services. Headquartered in Indianapolis, its publishing and distribution services extend worldwide. http://www.dogearpublishing.net
One Season: A Baseball Tale by William B. Moran
Available at Amazon.com, Barnes & Noble, Ingram and fine bookstores everywhere.
Dog Ear Publishing ISBN: 978-1-4575-0992-6 232 pages $14.99 US