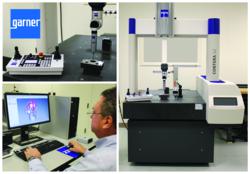 Garner specializes in machining high performance alloys such as hastelloy, inconel and titanium to precise tolerances for the aerospace, automotive, instrumentation and the oil and gas industries.
Lincoln, NE (PRWEB) May 12, 2012
Garner Industries announces the purchase and installation of a new state-of-the-art Zeiss Contura G2 Coordinate Measuring Machine. With a measuring range of X = 700 mm, Y = 1000 mm, and Z = 600 mm, this new equipment is able to measure a wide variety of metal components with a degree of accuracy of .00008" over 3". The Contura G2 offers highly automated inspection that is less reliant on human operation and measures extremely consistently. This new CMM is able to measure precision machined components, tooling, and wire EDM components to tight tolerances with high accuracy and repeatability.
Garner specializes in machining high performance alloys such as hastelloy, inconel and titanium which are difficult to machine and expensive to waste, making precision vital. Companies in the aerospace, oil & gas, instrumentation, and automotive industries are some examples of operations that are demanding extremely tight tolerances. The Zeiss Contura G2 allows Garner to fixture and program the inspection procedure so repeat parts can be checked quickly and consistently. It will help to make inspections more efficient with First Articles by reducing set up times and ensuring fast deliveries of high quality components to customers.
Garner Industries selected the Zeiss CONTURA G2 because it is a very robust machine design with the benefits of high-speed scanning. It features a flexible articulating probe that offers scanning in all angular positions to provide a highly accurate and concentrated acquisition of measuring points that is much more reliable, robust and reproducible than conventional systems. With its high degree of sensitivity, process changes are detected at an early stage, so high production quality is ensured and rejected parts are reduced.
"Our quality goal is to deliver to customer's demanding specifications," stated Scott McLain, president of Garner Industries. "We take pride in delivering high quality parts and with this highly automated and precise equipment, we are able to upgrade our inspection ability and improve our quality efficiency and output. Our customers can have the confidence that we are shipping parts that consistently meet their stringent requirements."
About Garner Industries
Garner Industries is an ISO 9001:2008 certified company established in 1953 and headquartered in a 75,000 square foot manufacturing facility in Lincoln, Nebraska, USA. The company provides high-quality, cost-effective precision tooling, mold building, custom machining and plastic injection molding for a diverse variety of industries including electronics, telecommunications, medical, automotive, defense and aerospace. The company is also leading worldwide manufacturer of the BinMaster® brand of bulk solid and liquid bin level indicators for the feed & grain, food, plastics, pulp & paper, power, mining, and concrete industries.