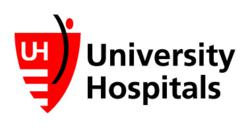 Like all neural cells, the sensory cells of the inner ear do not regenerate. Once a cell dies, it is not replaced by a new cell.
Cleveland, Ohio (PRWEB) May 10, 2012
When President Ronald Reagan appeared in public wearing a hearing aid in 1983, people noticed. He was a high-profile example of a powerful, active older adult using a tool to function at his best.
"Hearing aid sales increased dramatically in the U.S. that year," says Maroun Semaan, MD, Co-Director, University Hospitals Ear, Nose & Throat Institute, Ear, Hearing & Balance Center and Cochlear Implant Surgery, and Associate Professor of Otolaryngology and Head and Neck Surgery, Case Western Reserve University School of Medicine. "Age-related hearing loss is very common," Dr. Semaan says. It affects one in three adults older than 60 and half of people older than 75.
But just because it's common doesn't mean it's inevitable. Lifestyle choices can help protect your hearing. When hearing problems do develop, prompt diagnosis and treatment can greatly improve quality of life. Older adults who seek out treatment for hearing loss are less likely to experience depression, anxiety and social isolation than those who remain untreated.
Nurturing Your Nerves
Tiny hairs inside the ear pick up sound waves and send them to the brain as nerve signals.
"Like every other organ in the body, the ear is going to undergo the degenerative changes that happen with age," Dr. Semaan says.
Genetic susceptibility plays a role in hearing loss. But so do lifestyle choices.
"Living a healthy lifestyle is beneficial to hearing just like it is to the rest of the body – your eyes, your heart, your blood sugar levels," says Gail Murray, PhD, Director of University Hospitals Ear, Nose & Throat Institute's Audiology and Cochlear Implant Center and Associate Professor of Otolaryngology and Pediatrics at Case Western Reserve University School of Medicine. Eating well, exercising and controlling your weight support good circulation to the nerves of the inner ear, she explains. People who smoke are also more likely to have hearing loss.
Exposure to loud noises is another risk factor for hearing loss.
"Like all neural cells, the sensory cells of the inner ear do not regenerate," Dr. Semaan says. "Once a cell dies, it is not replaced by a new cell." Keep the volume moderate when you use headphones, and wear ear protection when you're around loud sounds at work or during recreation. (Reagan's hearing was affected when a pistol was fired near his right ear while he was filming a movie in the 1930s.)
If your ears are ringing after a concert or using a power tool, "it's a warning sign that the ear has been overexposed to loud sound," Dr. Murray says. Ringing or buzzing in the ears can accompany a temporary hearing loss that goes away on its own. "After repeated exposure, the ears can no longer recover and a person experiences permanent hearing loss," Dr. Murray explains.
Restoring Your Hearing
If your last hearing test was back around the Reagan era, it's a good idea to have an audiogram by age 50 to establish a baseline and see whether hearing loss has developed. "People who are prone to age-related hearing loss will probably start having some hearing loss at really high tones as early as 45 to 50 years old," Dr. Semaan says. "But most people will not notice a significant effect on day-to-day life until 60 or 65."
It may be time for a hearing test if:

Background noise makes it hard to understand conversations.
You have to ask people to repeat themselves regularly.
You have more than occasional ringing in your ears.
People tell you the TV is loud when you can barely hear it.
Just like computers, hearing aids continue to improve as technology advances.
"Digital technology allows us to make smaller hearing aids that can hide completely in the ear canal," Dr. Semaan says. As well, the type of hearing aid is matched to a person's pattern of hearing loss for best results. "It's not one size fits everyone," Dr. Semaan says.
"If your hearing has diminished to the point where a traditional hearing aid is no longer beneficial, you may be a candidate for a cochlear implant," Dr. Murray says.
These electronic devices bypass damaged cells in the inner ear to deliver sound directly to the auditory nerve. Detecting and correcting hearing loss keeps you connected to family and friends and engaged in a better quality of life.
How Sweet the Sound
If you have diabetes, you can add better hearing to the list of benefits of controlling your blood sugar.
"The microscopic hair cells and nerve fibers in the ear depend on oxygen delivered to the nerve end¬ings through the blood supply," says Gail Murray, PhD.
People with diabetes are prone to angiopathy, or small vessel disease. When the blood vessels that supply nerves in the ear aren't functioning well, hearing is compromised. In fact, hearing loss is twice as common in people with diabetes.
Work with your health care team to manage your eating and activity to keep your blood sugar on track, and take any medication your doctor prescribes. Get your hearing checked if you notice any problems.
For more information, visit: UHhospitals.org/listen.