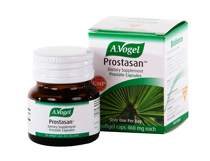 "The sexual results are promising and should be confirmed by future, larger studies using a controlled design."
Roggwil, Switzerland (PRWEB) May 11, 2012
A new study – published in the journal Phytotherapy Research -- showed for the first time that a treatment with a saw palmetto preparation (Prostasan®) lead to an improvement not only of urinary symptoms but also of sexual dysfunctions.Benign prostatic hyperplasia (BPH), the most frequent reason for urinary problems in elderly men is also the main reason to cause sexual dysfunctions in this patient group.Led by Dr. Eugen Riedi, MD, a urologist in Chur, Switzerland, the research team showed that after a treatment duration of 8 weeks the urinary symptoms improved by more than 50% and sexual problems like erectile dysfunction, ejaculatory problems, or lack of sexual drive by about 40%.
Existing standard pharmaceutical therapies for BPH symptoms like alpha-blocking agents or 5-alpha-reductase inhibitors are known to cause further sexual dysfunctions. Thus, men seek therapies that improve BPH symptoms and occurring sexual problems as well. "This is one of the first therapies ever to show an improvement of BPH symptoms and of sexual dysfunctions at the same time. Furthermore the treatment was very well tolerated, cost effective and patient's compliance was excellent," notes Dr. Eugen Riedi.
Commenting on the trial, Mark Blumenthal, Founder and Executive Director of the nonprofit American Botanical Council(ABC), an herb research and education organization said, "This preliminary research is highly interesting as it is the first clinical study suggesting that patients with BPH and corresponding sexual problems may benefit from both conditions by using saw palmetto. The positive urinary results are consistent with many previous clinical trials on saw palmetto preparations. The sexual results are promising and should be confirmed by future, larger studies using a controlled design." (Bioforce AG recently received ABC's Varro E. Tyler Commercial Investment in Phytomedicinal Research Award for its commitment to clinical research on its herbal preparations.)
The authors of the study emphasize that with respect to the adverse side effects of the synthetic standard medications frequently prescribed to men with BPH, these are very promising results for patients seeking a well-tolerated, efficacious, and cost-effective treatment as shown in this trial for the clinically researched product, Prostasan.®
Study details
A total of of 82 patients with at least moderate BPH symptoms (both obstructive and irritative) and sexual problems (like erectile dysfunctions or lack of libido) for at least two months were recruited from two urological and four general practices in Switzerland to participate in this trial.
For eight weeks patients took one capsule daily containing 320mg of the saw palmetto berry extract (Prostasan®, producer A.Vogel Bioforce AG, Roggwil, Switzerland). At the beginning and end of the treatment BPH symptoms were assessed using the International Prostate Symptom Score (IPSS) and sexual dysfunctions were evaluated with the brief Sexual Function Inventory (bSFI) and the Urolife BPH Quality of Life-9 questionnaire.
In the end, the IPSS was reduced highly significantly by 51% and the bSFI which measured sexual drive, erectile function, ejaculatory function, problem assessment, and satisfactions improved by a total average of 40%. An improvement of 36% was observed with the Urolife Score which assesses sexual drive, erections, and sexual satisfactions.
The saw palmetto preparation was shown to be quite safe and well tolerated. Both the patients and the clinical investigators assessed the saw palmetto treatment in the majority of men as very efficacious. The majority of the patients experienced the most beneficial effects on both libido and erectile function, and 90% of the patients stated that they would take the saw palmetto extract again.
Source: Suter A, Saller R, Riedi E, Heinrich M. Improving BPH symptoms and sexual dysfunctions with a saw palmetto preparation? Results from a pilot trial. Phytother Res. 2012 Apr 23. doi: 10.1002/ptr.4696. Published online ahead of print
Bioforce AG is a manufacturer of herbal medicines, certified as meeting Swiss Pharmaceutical Good Manufacturing Practices. Bioforce is known for its highly regarded research in the field of herbal medicine and this years recipient of the Varro E. Tyler Commercial Investment in Phytomedicinal Research Award for its commitment to clinical research on its herbal preparations.