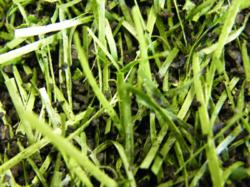 I'm pleased to see such exceptional results. It substantiates our commitment to quality.
Austin, TX (PRWEB) May 10, 2012
Matrix® Turf, by Hellas Construction, displayed exceptional durability during tests performed in April by OFI – Austria's largest cooperative testing and research institute. Lisport testing was performed on the sample in increments of 5,000 cycles – each cycle equivalent to one hour of use with cleated shoes. The test is designed to simulate wear on synthetic surfaces, and in this case, specifically for high-traffic artificial athletic fields.
OFI ran 60,000 cycles of Lisport testing on a new sample of Matrix® Turf and observed minimal signs of damage. These results serve as just one point of comparison for potential buyers when considering purchasing a synthetic athletic field. The turf fibers represent about 15% of an artificial athletic field. The quality of the playing surface also depends on the base, drainage, pads and infill. Additionally, one should carefully evaluate construction and installation quality, along with warranty and support, and speak with several references before awarding a contract.
"We've invested a lot into the development of our Matrix Turf systems. We continually improve the yarn and manufacturing process, and I'm pleased to see such exceptional results," said Reed J. Seaton, CEO of Hellas Construction, Inc. "It substantiates our commitment to quality."
Established in 1946, OFI is an accredited testing laboratory for chemistry and technology. The Lisport machine is recognized as the industry standard for testing synthetic surfaces, and conforms to the "FIFA Quality Concept for Football Turf Handbook of Test Methods" (May, 2009 edition).
Hellas Construction, Inc. is an Austin, Texas-based manufacturer and supplier of synthetic sport surfaces, and the only fully integrated sport contractor to manufacture, construct, install, warrant, and maintain synthetic sport surfaces for field (football/soccer), track, and tennis. Hellas manages all business operations – sales, marketing, quality control, and project management – to deliver its products directly to clients ranging from independent school districts to Division 1 colleges and universities, and NFL teams. To learn more, please visit http://www.hellasconstruction.com.
Hellas Construction, Inc. has positioned themselves for continued success through their partnership with legendary materials manufacturer, Royal TenCate. TenCate Grass develops and produces synthetic turf components, and designs systems for top-flight sport, recreation and landscape applications. Together with its partners, TenCate Grass strives to achieve a systematic approach – inspiring confidence among clients for enhanced playing characteristics and improved turf lifespan. TenCate Grass has production facilities in Europe, the Middle East and North America.