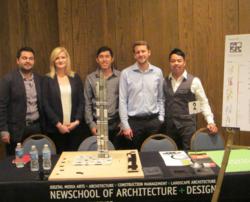 San Diego (PRWEB) May 11, 2012
A NewSchool of Architecture and Design (NSAD) team won the MCM Group Mock Firms International Skyscraper Award, the highest honor in the international 2012 Mock Firms Competition collegiate division held in Chicago May 3–4. The undergraduate team, which also won the titles of Top Sustainable Mock Firm and Top Architecture Mock Firm, was among six finalist teams in the competition's college division, formally called the International Skyscraper division. The finalists also included a second NSAD team composed of graduate students.
The fourth annual Mock Firms Competition was held by Chicago Architecture Today, an LLC online publication reporting on architecture in Chicago and beyond. The winning team members, who named their mock firm Capsule Architecture Lab, are all undergraduate students in NSAD's Bachelor of Architecture program: Monika Banakaite, Wilfred Briones, Brandon Nash, Lam Thanh Nguyen and Carlos Sandoval. The group's NSAD faculty mentor was Raul Diaz, an associate with Roesling Nakamura Terada Architects. As the overall winner of the competition, the student team receives a $1,000 prize sponsored by the MCM Group International, an award-winning studio of planners and architects that has developed more than 2,000 projects around the world. Their primary practice areas include sustainable design, leisure and tourism and cultural and heritage projects.
The other NSAD finalist team, SALT (Sustainable: Architecture: Landscape: Technology), was made up of graduate students in the Master of Architecture program: Ann Capinguian, Kevin Colbert, Daniel Kwak and Rodrigo Villalon. The group's NSAD faculty mentor was Daniela Deutsch of the architecture firm exitecture.
"We are proud of our two student teams that demonstrated as finalists the quality and professionalism that we encourage in all our students," said NSAD President Steve Altman. "At NSAD we have made global experience part of our mission. This competition, with its focus on a hypothetical project in China, was an opportunity for our students to show how they can successfully apply their technical and creative backgrounds at an international level."
The competition, which includes a separate category for secondary school students, provides students with practice in creating and participating in a simulated architectural design firm in preparation for the work environment. Other finalist teams at the collegiate level were from Cornell University, Drexel University, Higher Technical School of Architecture (Spain), and the University of Wisconsin-Milwaukee. NSAD was the only school in this year's college competition with more than one team represented in the finals.
For the competition, the collegiate teams developed a "mock" design/build firm and prepared a project proposal for a skyscraper based on the competition's theme of "versatility," which was defined as varied building uses and adaptability. The site of the conceptual project was Beijing, China. During the final competition, teams pitched their design concepts directly to some of the industry's leading design/build professionals to receive immediate feedback and critique. The collegiate teams competed in the categories of marketing, construction, organization, engineering, architecture and sustainability, in addition to the top overall mock firm.
About NewSchool of Architecture and Design
NewSchool of Architecture and Design (NSAD), founded in 1980, is located in San Diego, California. NSAD is accredited by the Accrediting Council for Independent Colleges and Schools (ACICS). ACICS is listed as a nationally recognized accrediting agency by the U.S. Department of Education and the Council for Higher Education Accreditation. NSAD's Bachelor of Architecture, Master of Architecture and Executive Master of Architecture programs are accredited by the National Architectural Accrediting Board (NAAB). NSAD also offers a pre-professional Bachelor of Arts in Architecture, a Bachelor of Science in Digital Media Arts, a Bachelor of Science in Construction Management, a Bachelor of Landscape Architecture, a Master of Landscape Architecture, a Master of Construction Management and a Master of Science in Architecture. NSAD was ranked among the top 10 undergraduate architecture schools in the western United States, according to the DesignIntelligence report "America's Best Architecture & Design Schools 2012." For more information, visit http://www.NewSchoolArch.edu.
# # #