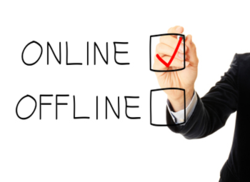 London, England (PRWEB UK) 14 May 2012
With the growing importance of an online presence, Easily.co.uk provides an inexpensive website solution helping small businesses and entrepreneurs get online in minutes.
Easily.co.uk recognises the importance of small businesses and entrepreneurs needing an online presence. Search engines are the key resource for consumers looking for details about local products and services.
Also, since the growth of the Smartphone, consumers are constantly searching for local businesses on the go. According to Mintel, 55% of all internet users' research products online before making a purchase. Small businesses without websites are likely to lose business to competitors with websites.
Traditional media costs vs. online costs:
Small businesses and entrepreneurs benefit from the inexpensive cost of communicating through a website. A website provides the ability to keep product and service information up-to-date instantly at no additional cost. This is a cheaper alternative to production costs of leaflets and catalogues found in traditional media.
Reluctance to get online:
Despite the benefits of having an online presence many small businesses do not have a website. According to Marketing Pilgrim, in 2009, 44% of small businesses still didn't have a website.
The main issue small businesses and entrepreneurs face is the perception of needing technical skills to create a website. There is also a misconception of needing to spend money on a web designer and huge amounts of time to set up and maintain a website.
Affordable and simple:
The costs involved in getting online are lower than people think. Easily.co.uk is offering small businesses and entrepreneurs a website solution which includes a year's registration of a .com or .net, website creator, web hosting and two email accounts for £35 a year.
The appeal of this solution is that users do not need to be experts in coding or design to put together a professional-looking website. It features designs for over 100 business sectors which can be customised with a logo and brand colours. Text and images can be uploaded and published in minutes.
The website name can either end in .com or .net. .com is a key top-level domain for growing and established businesses to have a credible and trusted online identity. It is ideal in kick-starting an online presence for an "offline" business. .net is the top-level domain of choice for entrepreneurs looking to launch ideas into reality.
To ensure a full online presence, two email accounts are included for users to create personalised email addresses. This lets small businesses and entrepreneurs stand out from the competition with their own branded you@yourdomain.com email address.
Safe from online threats:
In this digital age, cyber crime, malware and other online threats are serious issues faced by website owners. A study by Ofcom found that around three in ten users have suffered from a virus in the last 12 months and a similar number receiving unsolicited emails encouraging them to enter personal information.
Easily.co.uk keeps websites secure by carrying out daily server backups, automatics updates and firewall updates. Email accounts are hosted on a highly secure email platform featuring powerful built-in anti-spam and anti-virus tools.
About Easily.co.uk
Easily.co.uk is a leading UK provider of cost effective web hosting and domain name services. Easily.co.uk was formed in 1999 to provide UK businesses and consumers with reliable services at affordable prices and backed by first class customer support.
Easily.co.uk is part of Group NBT, a leading provider of domain names and internet-related services with over 350 employees worldwide. On Friday, 25th November 2011, Group NBT was acquired by Hg Capital LLP, a substantial private equity fund with assets of over £3.4 billion under management and experience in a number of sectors and geographies.