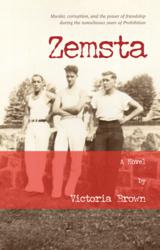 This story grabs you and doesn't let go.
Boca Raton, FL (PRWEB) May 15, 2012
Woodchuck Publishers (http://www.WoodchuckPublishers.com) announced today the release of historical fiction and suspense novel Zemsta. Available in both e-book and paperback formats on multiple sites, Zemsta was written and self-published by indie author Victoria Brown.
According to Brown, "Zemsta is thoroughly researched and creates an authentic sense of time and place. Even the clothing and politics described in the novel are those of the Prohibition era. For example, research revealed that cars in 1932 did not have trunks like today's cars. Instead, steamer-like trunks were strapped onto a fold-down rack at the back of the auto. Planning to distill liquor anytime soon? You can find the recipe for moonshine in the pages of Zemsta." Brown adds, "There are loads of period details, including many actual historic and sports events."
Book description:
What Drives Good People to Do Something Bad?
As terrible revelations come to light, four people join together to commit an unspeakable act…
When a member of the privileged upper class frames a Polish immigrant for a socialite's murder in 1920s Akron, the heart-pounding events that follow lead to a stunning and unexpected conclusion. This gripping tale of bigotry and class distinctions includes political corruption, greed, injustice, murder, and betrayal. While Albo Jablonski endures the atrocious conditions of the state penitentiary, his son Nickels, daughter Antonia, and their friends Kurt and Charlie are tormented by the knowledge that he is innocent. Zemsta is a powerful, character-driven story of three boyhood friends during the tumultuous days of Prohibition that explores the power of friendship, family, love and loyalty.
Reviewer Kren Teren calls Zemsta "compelling," and says Brown's story is thought provoking and an ideal selection for book clubs. Teren's challenge to readers: What would you do if someone you loved were sent to prison for a murder he didn't commit? What does it take for people to do something they wouldn't normally be capable of?
About the Author: Victoria Brown worked in the communications industry for over 30 years, most recently as President of her own firm, Victoria Brown Marketing Communications. She has a degree from Syracuse's Newhouse School of Public Communications. She grew up in northwestern Pennsylvania and lived in the Boston area for 20 years. Currently basking in the sun in Boca Raton, Florida, she lives with two miniature dachshunds and a cat named Puppy. Zemsta is her first novel.
The book is available on the following sites:
Kindle: http://amzn.to/J91EdE
Paperback: http://bit.ly/IMlZAL
Smashwords for other e-readers: http://bit.ly/IRMR0R
Coming soon to Barnes and Noble and Apple iBooks.