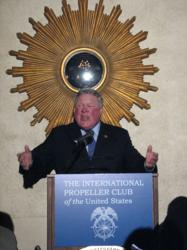 "So I always say that I launched my political career at Jesse Calhoon's place on the Eastern Shore with M.E.B.A."
Washington, D.C. (PRWEB) May 11, 2012
On Tuesday, the International Propeller Club of the United States awarded Congressman Norm Dicks (D-WA) the "Salute to Congress Award" for 2012. Presented at the annual Salute to Congress Dinner, the award is given every year to a member of Congress who has demonstrated constant support for the United States-Flag Merchant Marine and the American maritime industry. In his acceptance speech, the Congressman attributed M.E.B.A. to helping start his political career.
Rep. Dicks graciously honored the M.E.B.A. in his acceptance speech, stating that the Union helped to launch his Congressional career. "One of my real starts in my career was when I was invited to go down to Jesse Calhoon's house at M.E.B.A. on the Eastern Shore," said Rep. Dicks. "The first time I was there I sat down at this table where they were playing cards, poker. And I sit next to Phil Burton, the famous Phil Burton, him and Tom Foley were responsible for democratizing the House of Representatives." The Congressman went on to say that throughout that game of poker, which he won, he made a great connection with Rep. Burton who later helped to get him a seat on the sought after on the Appropriations Committee and helped him to strengthen his influence in Congress.
At the end of his story, the Congressman then restated his connection to M.E.B.A. "So I always say that I launched my political career at Jesse Calhoon's place on the Eastern Shore with M.E.B.A., and over the course of the years I've had so many friends in maritime labor who've helped me in my campaigns. And being from Washington State, we're proud of the Merchant Marine." The M.E.B.A. thanks Rep. Dicks for all of his support throughout his tenure in Congress and for his gracious speech. To watch a video of Congressman Dicks' speech in full please click here.
Congressman Dicks has been a strong supporter and a fierce advocate for the maritime industry. He has also been a faithful friend to the M.E.B.A., helping to introduce and support numerous pieces of pro-labor and pro-maritime legislation throughout his 36 years in Congress.
About the Marine Engineers' Beneficial Association
The M.E.B.A., America's oldest maritime labor union, supplies U.S. Coast Guard licensed deck and engineering officers in both the U.S. domestic and international trades. The Union was established in1875. Its members serve aboard tugs and barges, fireboats, research vessels and in various capacities in the shoreside industries. In wartime, M.E.B.A. members have sailed in virtually unarmed merchant ships delivering critical defense cargo despite attacks from enemy aircrafts, submarines and warships. In times of peace our members still face dangers such as piracy on the high seas in order to best serve their country.
###