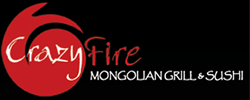 Raleigh, NC (PRWEB) May 10, 2012
Raleigh's flavor foragers may find welcome refuge at Crazy Fire Mongolian Grill, which stocks more than 60 organic ingredients prepared fresh for its "build-your-own" buffet. On Sunday, May 13th, the location at Capital Blvd. and Spring Forest Rd. is hosting a Mother's Day special: for $8.95, patrons can partake of the all-you-can-eat buffet, and treat matriarchs to $5 house martinis from the assorted "Crazy Martini" menu.
For newcomers to the ancient art of Mongolian restaurant franchising, patrons start at the beginning of the buffet line, bowl in hand, strategizing the best concoction to tailor to their tastes. Fresh meat, seafood, and tofu options stretch out across Crazy Fire Mongolian Grill's various buffet stations, with batches of organic vegetables, garnishes, and sauces down the line to fully customize the blueprints of meals. Customers then pass off bowls to grill workers, who surround a giant, flat-topped skillet surface with sharpened swords for dicing selections as they sauté. With the Mother's Day special, guests can refill plates as many times as their stomachs allow.
Crazy Fire Mongolian Grill's sauces and seasonings span the culinary influences of several cultures. Teriyaki and Hawaiian sauces swim alongside Mango Habañero salsa, sesame oil and Texas Pete Hot Sauce. Caribbean jerk, curry powder and Cajun seasonings mingle among other spices to bring distinct character to plates. Every meal comes with a choice of steamed or fried rice.
The full service bar at Capital Blvd. and Spring Forest Rd.'s location stocks Crazy Fire's signature Crazy Martinis, all discounted in honor of moms who appreciate a good vermouth. Chocolate-covered cherry, chocolate-raspberry, and mint chocolate chip make up some of the endorphin-releasing blends. Fruit-partial palates may sip flavors such as caramel apple, Georgia peach, and pineapple upside-down cake to top off the holiday with a decidedly adult dessert.
About the company:
Crazy Fire Mongolian Gril l provides more than 60 ingredients prepared FRESH and decides to use organic and locally grown produces. Crazy Fire Mongolian Grill is the restaurant where customers choose their own ingredients and sauces from fresh bar, then hand over to the grill and enjoy the entertainment of watching how their customized plate is created. Plus, since this location, located at 3611 Spring Forest Road, in Raleigh N.C., is run "all you can eat" buffet style, customers can be creative and try as many dishes and ways they want to.
Crazy Fire Mongolian Grill hours of operation:
Monday - Thursday 11am - 10pm
Friday - Saturday 11am - 11pm
Sunday 11:30am - 9pm
Crazy Fire Mongolian Grill also has a party room, that can hold up to 40 people, perfect for business lunches and dinners, corporate events, church events, and birthday parties. For more information visit their website at http://www.crazyfiregrillandsushi.com.