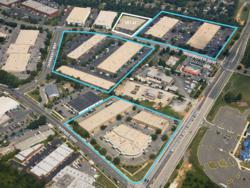 This purchase was a value-add acquisition for Willco and our partners. The strategy includes purchasing an under-performing flex industrial portfolio and growing occupancy and rents as we stabilize the assets while reducing operating expenses and creating
Potomac, Maryland (PRWEB) May 11, 2012
In one of the Washington Metropolitan Area's largest industrial portfolio acquisitions this year, a partnership led by Willco Companies of Potomac, MD has acquired approximately 285,000 square feet of flex-industrial space at Montgomery County Airpark in Gaithersburg, MD for $30 million. The sellers, Zarpas 1 through 5 Limited Partnerships, were represented by the Washington, DC office of Jones Lang LaSalle. BB&T Bank provided financing for the acquisition.
The portfolio consists of eight flex-industrial buildings with over 60 tenants, located in the Washington region's fourth largest industrial park. Montgomery County Airpark is situated at the doorstep of the newly completed Montgomery County Intercounty Connector, providing enhanced access to major transportation and business centers across the region. The property will be re-branded as Willco Business Center at Montgomery County Airpark.
Willco's new acquisition is approximately 75 percent leased with national tenants such as M&T Bank, wholesale distributor Ferguson, and construction services company Cianbro. The new ownership plans to lease the existing vacancy to high-quality, service-oriented tenants while reducing operating expenses and increasing profitability. Willco also plans to improve the business park's exterior appearance.
Commented Willco Companies' Chief Operating Officer Jason Goldblatt: "This purchase was a value-add acquisition for Willco and our partners. The strategy includes purchasing an under-performing flex industrial portfolio and growing occupancy and rents as we stabilize the assets while reducing operating expenses and creating operational efficiencies." Willco already holds a portfolio of more than two million square feet of flex/industrial assets in the Washington, DC Metropolitan Area, and plans to add additional small-bay, service-oriented flex/industrial product to its portfolio in 2012.
"This portfolio is part of dwindling supply of industrial-zoned land on the I-270 corridor, and is uniquely situated at the gateway to the Airpark with direct access to the recently completed Intercounty Connector, which originates just two miles from the property," Goldblatt noted. "These assets now represent the largest concentration of flex-industrial property in the Airpark under the same ownership."
Willco Companies is a well-established locally owned and managed commercial property development and investment firm founded in the 1960's with a five million square foot commercial real estate portfolio. For further information, visit http://www.willcocompanies.com.