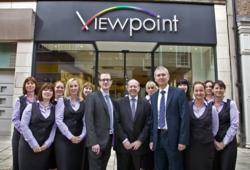 (PRWEB UK) 11 May 2012
In conjunction with World Retinoblastoma Awareness Week (13th to 19th May), optometrists at Viewpoint are highlighting this devastating condition and are backing the Childhood Eye Cancer Trust's (CHECT) campaign to make vital information about Retinoblastoma readily available to parents.
The team at Viewpoint are getting involved in the campaign by signing the petition and contacting local York MP's, Hugh Bayley and Julian Sturdy, asking them to show their support and lobby to the Department of Health, in the hope that the vital information on Retinoblastoma will be published in the Personal Child Health Record (Red Book) and Birth to Five book. They will also be raising funds throughout the awareness week for the CHECT, donating £20 to the charity for every pair of glasses sold.
Retinoblastoma is a life-threatening form of eye cancer that develops in the cells of the retina, affecting babies and young children. Optometrists at Viewpoint are warning parents to look out for the signs of the condition. The most common early sign is a white glow in the child's eye. This is usually only visible to the naked eye in low artificial lighting or when a flash has been used on a photograph. Some children may develop a squint and other less common signs are deterioration of vision, change to the colour of the iris or red, irritated eyes without infection.
The condition is often diagnosed late, once the tumor has already grown extensively within the eye. It is treatable but the later it is detected, the more aggressive the treatment will be. Sometimes the whole eye needs to be removed and the child requires follow-up chemotherapy and goes on to endure invasive checkups throughout childhood.
Early diagnosis creates a greater choice of treatment, avoiding the more aggressive procedures. Currently there is no information provided by the NHS for parents however, if they were aware of the symptoms and spotted retinoblastoma, they could seek medical help as soon as possible, reducing the chance of the child losing an eye.
The CHECT campaign, launched last year, called on the Department of Health to make changes to the Personal Child Health Record, the Birth to Five Book and NHS online, to include the signs and symptoms of the condition. Although the NHS Online team has agreed to publish the information and the committees responsible for the Personal Child Health Record and the Birth to Five Book have agreed to consider the proposals for change, the campaigning continues.
Viewpoint is urging people to get behind the campaign and help spread the word about this condition. You can find out more information about the condition and sign up to the petition on Viewpoint's Facebook page at http://www.facebook.com/viewpointopticians