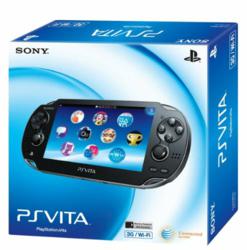 The Vita and its accessories and games will continue to gain popularity and we will continue to make sure the consumer is the big winner in terms of money saving and quality of product
Detroit, MI (PRWEB) May 11, 2012
SportsFanPlayground.com, who recently released that they were lowering the price of the Playstation Vita to a starting price of $234.99, has lowered the price again.
On Thursday, the company announced that the price would be lowered to a starting point of $220.99 for the Playstation Vita Wi-Fi version, $237.50 for the 3G/Wi-Fi version and $285.95 for the first edition bundle.
"The lowering of the price of the Vita is to prove that we want to give the best deals for products online," says DaVaughn Lucas, owner of Sports Fan Playground. "To be in a position to lower the prices for a system as popular and as feature-heavy as the Vita is a strong testament to the will of everyone to keep the consumer first. The Vita and its accessories and games will continue to gain popularity and we will continue to make sure the consumer is the big winner in terms of money saving and quality of product."
The Wi-Fi version of the Vita allows the customer to engage online via a wireless network or hub. The Playstation Vita 3G/Wi-Fi version allows for the gamer to use an AT&T connection to use the system anywhere, anytime there is a 3G signal (AT&T subscription sold separately). The first edition bundle includes the Vita itself, a carrying case, and the game "Little Deviants."
Since its debut in December, the Vita has sold over 1.8 million units worldwide as of March 31, 2012. The system features apps from social networks such as Facebook and Twitter, and also features a Netflix app for users to watch television shows and movies. The system also allows for connectivity to the Playstation Network, Sony's on-demand shopping service for movies, tv shows, games, and add-on downloads.
For more information, visit http://www.sportsfanplayground.com.
About SportsFanPlayground.com:
SportsFanPlayground.com is a leading provider of sporting goods from the NFL, NHL, MLB, NBA, UFC, WWE and NCAA apparel including jerseys, hats, and tailgating items. The store is also a leading online provider of electronics including video games, tablets, PCs, Macbooks, automotive accessories, cameras, networking solutions, televisions, blu-ray movies and much more.