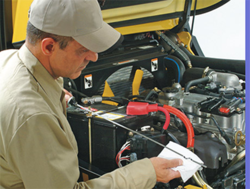 Collierville, TN (PRWEB) May 12, 2012
Fleet maintenance costs are critical to the success of many companies. Fleets need to be ready to perform each day's routine to maintain service to customers. Routine maintenance is of course critical. However, if the frequency of that maintenance can be reduced without impacting performance that would improve fleet cost's bottom line. It is important to remember that fleet downtime is really a cost. In essence you have an asset being idled.
Some examples of fleets using products provided by Dynamic Synthetic LLC include refuse haulers, OTR trucking companies, pest management companies, and taxi cabs. A recently completed study of a refuse hauler, indicated that maintenance costs were reduced by $422 per truck! This customer also increased oil drain intervals from 250 hours to over 900 hours.
Other fleets have not only reported reduced maintenance costs, but improved fuel efficiency. A controlled over the road trucking study reported an improvement of 6.5%. In the climate of volatile fuel prices, this certainly is a benefit.
About Company: Dynamic Synthetic LLC is located in Collierville, TN. The focus of the company is on reducing maintenance costs of fleet equipment, consumer goods, and powersports equipment.