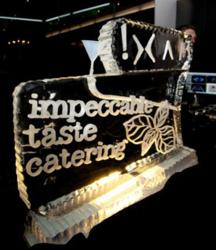 It was that perfect combination of modern cuisine against a backdrop of diamonds.
Toronto, Ontario (PRWEB) May 15, 2012
On March 22, 2012, Impeccable Taste Catering, a fine foods catering company in Toronto, and !Xam Diamonds, hosted an intimate gathering of Toronto's top social and corporate event planners to celebrate the launches of both service providers. The exclusive event was held at !Xam's hybrid gallery/event space, one of the city's newest and most unique venues.
The evening featured the culinary expertise of President & Executive Chef Rodney Kaufman, who introduced Toronto to top-notch corporate catering service Compri more than a decade ago. With an eclectic sampling of food offerings, Kaufman, along with his dedicated culinary team, has built a reputation for demonstrating a progressive attitude toward catering food in the Canadian food industry. The Impeccable Taste promise was evident at this gala event by offering a superior quality of food and presentation, a problem-free event with his well-trained experienced staff.
The customized menu for the launch event was an inspired spread of eclectic, unexpected and mouthwatering foods. From pumpkin-eggplant sushi and canapés of foie gras on brioche crostini sprinkled with golden berry, to spicy kangaroo meatballs and delicately seared tuna sashimi, which transcended the highest level of quality food & catering services in Toronto. Guests were invited to wash it all down in the spirit of the soirée: with diamond-dusted martinis poured through an ice luge.
Other colorful and globally influenced menu items included wild mushroom and brie tartlets, mango salad rolls with tamarind dip, lime chicken on sugar cane, vegetable Tamaki, prosciutto and apricot Gruyère in a warmed croissant, crab cakes, and sesame beef tenderloin on asparagus.
"As with all great caterers, the key lies in the ability to listen carefully to what a client wants," says guest Karen Jacobs of Karen Jacobs Consulting. "Impeccable Taste does just that and prepares their food with such care, flavour and detail."
"The collaboration with !Xam and Impeccable Taste made for a truly unforgettable dining experience," Kaufman says. "From concept to presentation, the overall impact was well-suited to the guests as well as the venue." Adds Terry Brenner, owner of !Xam diamonds: "It was that perfect combination of modern cuisine against a backdrop of diamonds in an ultra-contemporary setting."
Impeccable Taste Catering provides expert event planning and catering} for casual lunches, seminars, conferences, product launches, release parties, corporate affairs and weddings, among other social events. Born out of the philosophy that exceptional food must not only be meticulously prepared, but also artfully presented, our service offerings include colorful, eclectic and progressive menu options. Our full-service catering company provides service to private individuals, companies and corporations in Toronto and the Greater Toronto Area.
Call Executive Chef Rodney Kaufman at 416 792-2595 or visit itcatering.ca for more details.
SEO Services in Toronto by In Front Media