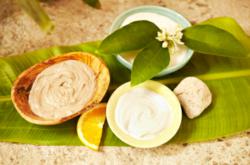 Applications of medicinal clay have proven to be quite helpful inhibiting bacterial activity.
San Francisco, CA (PRWEB) May 17, 2012
Zion Health, a California-based maker of popular clay-based toothpaste for gum problems, organic shampoo, soaps and detox treatments announced today that New Leaf Community Markets at 5667 Silver Creek Valley Road in San Jose will carry its new line of natural body care products. The key ingredient in Zion Health's natural home remedies is Calcium Montmorillonite Clay, "Kanwa", an effective detoxifier that has been used to treat wounds, acne, dry skin, wrinkles, stomach ulcers, and a variety of other ailments.
The benefits of Kanwa have been known since Native Americans and Aboriginal medicine men first discovered its healing qualities generations ago. Kanwa is now attracting the interest of the scientific community with recent MIT and NASA-sponsored research confirming the healing and beneficial qualities of this native home remedy.
Kanwa clay contains small particles as a result of the natural crystallization process making it easy for the body to absorb. The clay's negative charge gives it the ability to absorb or attract positively charged toxic matter. Kanwa is also touted by homeopathic practitioners and known in the scientific community for its bacteriostatic properties. An article published by Ronald Whitmont, MD in May of 2008 entitled 'MRSA and Its Treatment' states: "Applications of medicinal clay have proven to be quite helpful inhibiting bacterial activity."
New Leaf Community Markets, located at 5667 Silver Creek Valley Road, San Jose is a locally owned natural grocery store with six locations on the Central Coast of California. It has been serving the community for over 25 years. New Leaf's mission, to nourish and sustain our community, is reflected in the 10% of profits given annually to support local non-profits working to improve the quality of life. New Leaf is committed to offering customers choices that have the most beneficial impact on their health, and the health of the environment. (http://www.newleaf.com)
Zion Health provides its consumers with the purest, natural skincare products available on the market today including organic hair care products, organic soaps, toothpaste for gum problems and natural acne treatment. All Zion products are 100% vegan, free of parabens, aluminum, sulfates, and are formulated using certified organic ingredients whenever possible.
Zion Health products are available online at http://www.kanwaminerals.com and in select Whole Foods Markets in California, and in health food stores and local markets throughout the U.S. and Canada including New Leaf Community Markets in San Jose. For more information on Zion products, visit http://www.zionhealth.net.