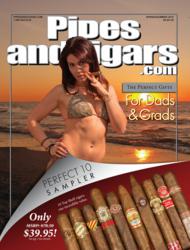 I know that our customers are going to find some of the best deals in the industry on many of their favorite brands.
Albany, NY (PRWEB) May 15, 2012
PipesandCigars.com, an industry-leading online tobacconist specializing in offering the Internet's largest selection of cigars, pipes, pipe tobacco, smoking accessories, and other gifts, has released their 2012 Father's Day catalog. It is a 64-page full-color catalog that features a wide variety of the best cigar gifts, cigar sampler packs, pipes, pipe gift sets, and pipe tobacco. The catalog is currently in the mail and on its way to tens of thousands of customers on the PipesandCigars.com mailing list, as well as currently being distributed in the company's outgoing shipments.
On the cigar side of the catalog there are many sampler pack items that are designed to be Father's Day cigar gifts. The company has introduced a variety of sampler packs called 5 on 5 Samplers that give customers five cigars each from two different brands at a significant savings, as well as a variety of sampler packs that allow customers to try many blends from the same brands. The catalog also features free bonus items on a variety of popular cigar brands, including La Flor Dominicana cigars, Arturo Fuente cigars, Rocky Patel cigars, Padron cigars, and many more. Xikar cigar cutters, Shuriken cigar cutters, assorted cigar sampler packs, $25 gift certificates, and even beef jerky are just some of the free bonuses customers will receive when ordering boxes of the cigars featured in this catalog.
Perhaps the most intriguing bonus offer in the catalog goes along with Undercrown cigars, made by Drew Estate, the company behind Acid cigars, Liga Privada cigars, and a variety of other brands that are among the most popular in the cigar industry. The advertisement for Undercrown cigars features a free 3-pack of "Drew Estate Test 156" cigars with each Undercrown box purchased. When asked, the company's Marketing Director Travis Lord was tight-lipped on the specifics behind Test 156, only saying that he "is very excited about the offer and expects it to be something customers enjoy".
On the pipe and pipe tobacco side of the catalog, the company is featuring a wide variety of pipes and pipe tobacco, as well as pipe and tobacco combination packs that are designed for an all-in-one gift for the pipe smoker. There are free bonus giveaways on the pipe side as well, most notably the Erik Nording Bobblehead dolls that come free with Nording pipes, and the Limited Edition Tobacco Jars that come free with Aldo Velani, GBD, Graco, and Sasieni pipes. PipesandCigars.com has also rolled out price decreases for this issue on two of their most popular pipe tobacco brands, Lane Limited and Borkum Riff.
"I couldn't be happier with the end result of this catalog," said Marketing Director Travis Lord. "Visually, I think it is stunning. The artwork really highlights the brands and makes them attractive. From a value perspective, I'm very proud of the value we're providing. I worked hard to come up with valuable and creative giveaways, and the support from our vendors who contributed free product to give away was outstanding. It really made the project fun to work on, and I know that our customers are going to find some of the best deals in the industry on many of their favorite brands. It is also fun for me to get the opportunity to highlight some smaller boutique cigar brands that I personally enjoy in this large-scale format. We have pages for Ortega cigars, Paul Stulac cigars, El Primer Mundo cigars, San Lotano cigars, and many other boutiques. I think the information and exposure for these brands will help customers decide to try them, and I know when they do that they will receive a top-quality product they will truly enjoy."
The catalog is scheduled to reach mailing list subscribers on or around May 15, and the prices and free bonus items are valid from May 15 through July 15. People interested in getting a copy of the catalog should visit PipesandCigars.com for details on how to subscribe to their mailing list.
About PipesandCigars.com: PipesandCigars.com is an industry-leading online tobacconist dedicated to bringing customers the widest selection of cigars, pipes, pipe tobacco and tobacco accessories. The company features premium cigars from brands like Ashton cigars, Montecristo cigars, Macanudo cigars, CAO cigars, Arturo Fuente cigars, and many more. They are the low-cost leader in pipe tobacco on brands like GL Pease, Sam Gawith, McClelland, Captian Black, Borkum Riff and many more. They feature thousands of pipes, ranging from inexpensive Corn Cobs and Dr. Grabow pipes all the way to the premium brands like Dunhill, Peterson and other fine hand-carved pipes.