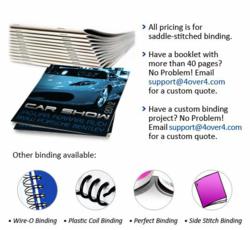 This leads to substantial monthly and annual printing costs which they can significantly reduce with the 4OVER4.COM bulk printing discounts
Astoria, NY (PRWEB) May 11, 2012
4OVER4.COM, a leading provider of digital and offset printing services including flyer printing, banner printing, booklet printing and other custom printing applications has announced a special corporate printing offer for dry cleaning firms that will enable them carry out monthly and annual bulk printing of business cards, in-house stationery, posters, flyers, banners, and more at discount rates while also enjoying quality printing services and fast turnarounds.
Dry cleaning is a good example of an understated but very essential and lucrative business. Consisting of several cadres of operation from coin-operated Laundromats and household items cleaning to executive and corporate dry cleaning for buildings, towers, companies and even entire estates, it is a very diverse business with enormous value and a lot of competition.
In any business with a high degree of competition, image and publicity is everything - assuming all of the competitors have the capacity to deliver to the highest standards of service quality, the winning party would be the one that most establishes its credibility in the industry, and thus wins over the most clients. In terms of publicity and advertising, the dry cleaning business has perhaps not been as fast as other industries in migrating towards Internet-based and social-media driven marketing - a fact that results in most advertising for dry cleaning firms been done via print media, TV and radio.
To stay competitive, dry cleaning firms have to generate a lot of advertising even on a monthly basis - a significant chunk of which is print-based, including flyers, posters, banners, large-format (e.g. billboards), and more. Printing on a large scale is always a costly venture, and businesses are always looking for ways to cut printing costs.
With the offer of special discounts for bulk printing done through 4OVER4.COM, dry cleaning firms have the opportunity to lower their printing costs significantly and access much needed savings which will improve their bottom line.
"Dry cleaning firms have to survive a lot of competition, leading to them generating a lot of print-based advertising to remain competitive. This leads to substantial monthly and annual printing costs which they can significantly reduce with the 4OVER4.COM bulk printing discounts," says 4OVER4.COM Principal Taso Panagiotopoulos.
For more information about the 4OVER4 corporate printing offer for dry cleaning companies or for general inquiries, please email support@4over4.com or call the 4OVER4.COM customer care line on 1-718-932-2700.
About 4OVER4.COM
Online printing company 4OVER4.COM, an NYC printing firm, is a green printing company that serves tens of thousands of clients nationally and whose printing New York facility began operations in 1999.4OVER4.COM provides unmatched technical and customer support and instant online pricing and ordering for full color printing services since 1999, 4OVER4.COM has offered free expert file review and free online proofs without any obligation to purchase. As a green printing company, we are strongly oriented towards sustainable environmental renewal, and we are happy to lead the way with environmentally and socially responsible printing practices and projects among national as well as New York Printers.