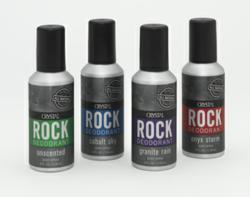 Crystal is a leader in the natural products industry and continues to develop high-quality vegan products.
Burlingame, CA (PRWEB) May 11, 2012
VegNews, America's premier vegetarian lifestyle magazine, is thrilled to announce Rock Deodorant Body Spray as one of the year's hottest new vegan products at the nation's largest natural products trade show, Expo West. Held March 9–11 in Anaheim, California, the magazine's team of editors scoured the show for the best new veg products and awarded just 12 companies top honors. This Best of Show Awards are the only one of its kind at the event that attracted 60,000 attendees and nearly 2,000 exhibitors.
"Crystal is a leader in the natural products industry and continues to develop high-quality vegan products. We are pleased to honor your accomplishments with a VegNews Best of Show Award," says Associate Publisher Colleen Holland.
ROCK, five years in development, was designed for men who demand performance and variety in their deodorants while expressing concern over what is going on their bodies and into the environment. ROCK, like all Crystal products, is free of unwanted chemicals.
ROCK Deodorant Body Sprays are available in three bold, all natural scents: Onyx Storm uses hints of ho wood, cedarwood and geranium bourbon; Cobalt Sky is infused with West Indian Sandalwood and vanilla and Granite Rain has hints of bergamot, citrus and sage. The company also offers ROCK in a fragrance free option.
As with all Crystal products, ROCK is hypoallergenic, non-sticky, non-staining and contains no aluminum chlorohydrate, aluminum zirconium, parabens, phthalates, dyes or propylene glycol. Rock is composed of mineral salts, which form an invisible layer on the skin, making it impossible for bacteria to thrive. In effect, ROCK Deodorant Body Sprays prevent odor naturally, rather than mask the odor like most commercial deodorants do.
"There were some terrific new products at Expo West," said Crystal® founder and President, Jerry Rosenblatt. "To have been selected by VegNews is truly an honor."
This is the seventh annual VegNews Magazine Best of Show Awards. Generating an astounding amount of entries and buzz at Expo West, they're already being anticipated for 2013. Winners receive bragging rights plus a beautiful framed award, a feature in the July+August 2012 issue of VegNews Magazine, and top-notch publicity. The feature will also be included on the magazine's award-winning website, VegNews.com.
ABOUT CRYSTAL®
French Transit, parent company of Rock and Crystal, was founded in 1984 by Jerry Rosenblatt. The introduction of the company's renowned Crystal Body Deodorant® stone (the original Rock) immediately put French Transit on the map in 1984 as an early innovator of all natural personal care products that were free of harmful chemicals.
Since that time the Crystal family has grown to more than 30 products, including Crystal Body Deodorant® Stick, Crystal Body Deodorant® Roll-On, Crystal Body Deodorant® Body Spray, Crystal Foot Deodorant Spray and the Crystal essence line of lightly scented deodorants for women.
Crystal is committed to developing products that support its customers' desire to protect their health and the planet on which they live. Crystal has not and never will test its products on animals. It is a supporter of Leaping Bunny and PETA and donates generously to cancer fighting causes.
Crystal products are available worldwide in over 36,000 stores, as well as online at Drugstore.com, Amazon.com, Soap.com, Alice.com and http://www.thecrystal.com.
ABOUT VEGNEWS
VegNews, America's premier vegetarian lifestyle magazine, has a readership of 225,000 and is read around the world. Each issue is filled with the latest in vegetarian news, global events, tantalizing recipes, nutrition updates, hot new veg products, must-read books, celebrity buzz, and even vegetarian weddings. It has won nearly every major industry magazine award.
###