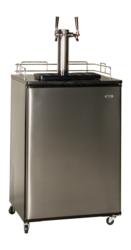 "From kegerators and wine cellars, to docking stations and soundbars, Haier has products that make hosting a successful party easy," said James Liess, Senior Manager of Communications for Haier America.
New York, NY (PRWEB) May 12, 2012
Memorial Day is a time of remembrance and an opportunity to spend some much-needed quality time with family and friends. It's the perfect occasion to invite people over to kick back, relax, and welcome the start of the summer season with good food, cold drinks, and good company. Break out those bright summer whites and check out Haier's Memorial Day party essentials to help pull off a get-together guests won't soon forget.
"From kegerators and wine cellars, to docking stations and soundbars, Haier has products that make hosting a successful party easy," said James Liess, Senior Manager of Communications for Haier America. "Memorial Day kicks off a busy season of barbecues, picnics, and other gatherings. Haier products are built to meet the challenge of hosting by offering functional solutions that cater to a variety of tastes, ensuring that hosts as well as guests can relax and enjoy the party."
The Haier Dual Tap Brewmaster Kegerator
A crisp refreshing brew is the perfect complement to any barbeque. Step it up by offering guests a pint pulled fresh from the tap. A Haier kegerator keeps the party going with perfectly cold, refreshing draft beer and none of the mess and waste of countless cans and bottles. Kegerators are practical and convenient with a fun appearance, and they keep beer cold without the risk of skunking that can happen with glass bottles. Keep half, quarter, and mini barrel kegs frosty all afternoon and night. The Dual Tap Brewmaster Kegerator lets you have two different beers on tap at once, making it easy to keep the crowd happy. Be it ale or lager, you'll have something for everyone this Memorial Day weekend.
Move iPhone Docking System
No backyard barbecue is complete without great music to get the party going. Haier's Move iPhone® and iPod® docking system is the ideal accessory with which to debut the perfect summer playlist. With a sleek profile and weighing less than two pounds, Move can go anywhere and play music in full, vibrant sound without needing to be plugged in. The included rechargeable battery lasts up to four hours. Move is great for the backyard, rooftop, or patio, and the travel case makes it the obvious choice for taking over to a friend's place, the park, or a family party. Keep the music pumping no matter what the venue with Move.
48 Bottle Dual Zone Wine Cellar
Whether you're loyal to reds or prefer a crisp white on a warm day, there's a spring wine to suit every taste. A sweet Riesling, a bright Rose, or a lighter bodied red wine will be more than welcome at any Memorial Day gathering. Keep them at the perfect temperature with this 48-Bottle capacity Dual Zone wine cellar. Separate temperature zones can keep a mixed collection of reds and whites ready to please the springtime palate of each and every guest. A movable divider for Temperature Zone adjusting provides added flexibility, and 5 glide-out racks keep the favorites easily accessible.
Slim Soundbar
When it's time to move the party inside, or for guests who just can't tear themselves away from the game, Haier's 40" Slim Soundbar works wonders for indoor entertainment. Super-thin speaker technology makes this sleek device under 1.1" thin. It includes a 2.4GHz wireless active subwoofer that can be conveniently placed virtually anywhere in the room. Two HDMI inputs allow easy connection of multiple HD devices at one time. Watch movies, play video games, or just wind down to the evening news all with fuller, more robust sound.
About Haier
Based in the landmark Haier Building in midtown Manhattan, Haier America is a division of the multinational Haier Group, the world's #1 major appliance brand as ranked by Euromonitor International 2011, and a global leader in consumer electronics and air conditioner systems. Haier employs more than 70,000 people around the world and distributes products in more than 165 countries and regions with global revenues reaching $23.3 billion in 2011. Haier is proud supporter of the National Parks Conservation Association. For more information, please visit http://www.haieramerica.com. You can also become a Fan of Haier America on http://www.facebook.com/Haieramerica or follow Haier America via Twitter @haieramerica.