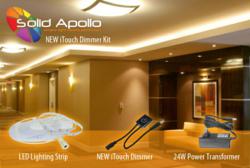 We decided to launch this re-vamped version of the LED Strip Light Value Kit as a means of introducing our new and improved dimming system, our LED Strip Light Value Kit is an excellent option for Do It Yourselfers
North Seattle, WA (PRWEB) May 10, 2012
Solid Apollo LED Strip Lighting Value Kits offer a chance to create high end lighting solutions for the home or office at a fraction of the cost associated with professional installations. It's easy to visualize these LED Light Strips being used to create under cabinet lighting for bathrooms, kitchens and bars. They can be used to create hidden lighting for book shelves or lighted coves, illuminate work benches or storage closets, and dial in display lighting to highlight trophy cases and prized collections. The LED Lighting can also be applied to areas within a home theater room were you need adjustable, out of the way, non-intrusive lighting solutions.
Thanks to the ultra-low profile and peel-and-stick backing of the LED Lighting Strip, home owners can apply them anywhere; install behind large picture frames, create subdued back lit areas, seamlessly illuminate hallways, master bedrooms, dens or entertainment rooms.
Each LED Lighting Kit is made with the same high quality components professional installers and architects have come to rely on, including Solid Apollo's 3 year warranty.
"We decided to launch this re-vamped version of the LED Strip Light Value Kit as a means of introducing our new and improved dimming system." States Solid Apollo's President, Manuel Barquin. Our LED Strip Light Value Kit is an excellent option for Do It Yourselfers seeking alternative low energy demand lighting solutions."
Solid Apollo's flexible LED Strip kits offer installers the ability to easily create custom length lighting solutions. The kit comes with one 16.4ft LED Strip, a 24W Power Supply Transformer, and an iTouch Dimmer (piano black). The new Touch Dimmer will activate the dimming function by simply touching the dimmer for more than 5 seconds and it will dim from 100% to 0% and vice-versa. The great thing about this kit is the ability to cut it to size to fit each project accordingly. Users can purchase Solid Apollo's solderless LED Strip Light accessories designed for people that do not want to solder or have complex wiring connections.
Currently, Solid Apollo offers their LED Strip Lights Value Kit in five different models: Pure White, Daylight White, Warm White, Blue, Red and Amber, shipping included when you purchase 2 or more kits.
About Solid Apollo.com: Solid Apollo is a cutting edge LED lighting company which designs produces and distributes a wide range of High Quality LED Lighting Products and lighting solutions to meet today's ongoing, new generation, lighting demands. For more information visit: Solid Apollo at http://www.solidapollo.com or call toll free 866-592-3873. Order online or send an email to sales(at)solidapollo(dot)com.