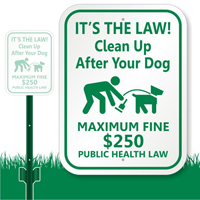 "Our LawnBoss™ Signs are a big favorite among our customers because they are attractive and resilient," said Blair Brewster, Creator of DogPoopSigns.com. "The sign-posts are bend-proof. Once they are installed, they're hard to remove by vandals."
Brooklyn, NY (PRWEB) May 11, 2012
DogPoopSigns.com, the premier distributor for pet-related signs, is introducing new LawnBoss™ Dog Poop Signs to maintain standards of cleanliness on property areas. Dog waste, especially on beautiful lawns, is an aggravating nuisance. Posting attractive, portable signs is an ideal solution to show cooperation in cleaning up after pets.
The waste from dog deposits is a major environmental issue. According to Litterboy.com, statistics show that there are 71 million dogs in the US creating over 29,000 tons of waste every day. The site describes a San Francisco study that said almost four percent of the landfills is pet waste. Too many dog owners don't pick up the waste at all, resulting in the feces being absorbed by the ground and eventually drinking water. Therefore, reminders are necessary to nip pollution problems in the bud.
Like most of the LawnBoss™ Dog Poop Signs, the new signs are green and white to match outdoor lawns and scenery. Messages such as "Please Clean Up After Your Pet" are gentle but firm reminders that owners need to assert control of pets. One amusing option is an 'Absolutely No Trespooping" sign that is both entertaining and effective. Other signs warn that a fine will be given to owners who let pets use the bathroom on private property.
Each sign comes with a 3 inch stake to ensure visibility and sturdiness. The LawnBoss™ Dog Poop Signs are made with heavy-duty thick aluminum that won't rust or bend. Additionally, the LawnBoss™ Signs are available as custom templates. "Our LawnBoss™ Signs are a big favorite among our customers because they are attractive and resilient," said Blair Brewster, Creator of DogPoopSigns.com. "The sign-posts are bend-proof. Once they are installed, they cannot be removed by vandals."
The LawnBoss™ Dog Poop signs can be installed with a hammer and also downloaded as PDFs. For more information, visit http://www.dogpoopsigns.com/POO/LawnBoss-Dog-Poop-Signs.aspx.
About DogPoopSigns.com
DogPoopSigns is the Web's leading retailer for signage to ensure that pet owners pick up after themselves. From classic designs to humorous options, there is no shortage of variety in the signs. Custom templates are available to personalization.
About SmartSign
SmartSign is one of America's fastest-growing e-commerce companies and parent of DogPoopSigns.com, MyParkingSign.com, as well as more than 50 other sites. The company manufactures and distributes a wide range of signs, tags, mats, and labels. In the past, many consumers have found it hard to find, hard to design and hard to order signs with the right message. By positioning "signs as solutions," SmartSign has taken an entirely different approach. Through highly targeted, content-rich, and authoritative retail sites, the company provides specific solutions to specific problems, such as customizing an asset tag. SmartSign is widely recognized for its quality construction; its signs come with a 3M(R) warranty and outlast fast-fading, ink-jet signs. Other SmartSign advantages include fast and free shipping, the Web's largest range of designs, and a best-price guarantee.