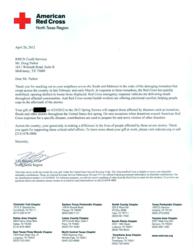 McKinney, TX (PRWEB) May 12, 2012
On April 10, 2012, as many as 10 tornadoes were spotted in North Texas causing devastation in their wake and leaving communities in such places like Kennedale, Arlington and Lancaster without electricity, water, or worse, a place to lie down and sleep.
As their monthly service project, in the aftermath of the severe 2012 Spring Storms, RMCN raised and donated over $1,200 to the American Red Cross. These relief efforts helped support the delivery of meals throughout communities affected by the tornadoes as well as allowed Red Cross workers to offer emotional comfort for those who are still trying to cope in the life-altering effects of the storms.
For information on how to become a Red Cross volunteer or to make donations, logon to http://www.redcross.org and join up. Information on how to get help, Red Cross news, and directions to your local Red Cross are readily available.