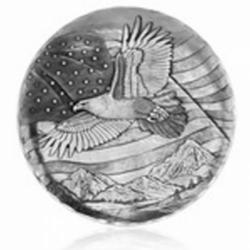 Elma, NY (PRWEB) May 11, 2012
The Made In America Store, known for selling USA made products, presents a new metal working vendor into their store. Wendell August brings their prestigious, handcrafted aluminum and other metal gifts to the Made In America Store just in time for Mother's Day. Consumers looking for something a little different for Mother's Day can rely on the all-America store for great gift ideas.
Wendell August currently sells rings, bracelets, Christmas tree ornaments and tree toppers, home decorations, plates and coasters at the Made In America Store. Each piece is hand crafted from aluminum and shows the utmost quality in metal work and each design is engraved with amazing detail. Wendell August even has a set of gifts specifically honoring each military branch.
Consumers who wish to shop for Wendell August's line of all American made gifts can visit http://www.MadeInAmericeStore.com
Wendell August is America's oldest and largest forge, manufacturing hand-made metal ware and gift ware with aluminum since 1923. An active member of the coal industry, Wendell August decided to start the gift company at the age of 38 in Brockway, Pennsylvania. August partnered up with Ottone Pisoni, a blacksmith in the same coal mine, after he was so impressed with Pisoni's work of hand-forged latches for his home.
August was so inspired by the low cost and high quality of Pisoni's work that he started an ironware business. Pisoni and August handcrafted their first product line to include fireplace andirons, candlesticks, lighting standards, doorknockers, latches, railing and grilles for windows and doors.
Today, Wendell August still uses their original painstaking, eight-step process to manufacture each heirloom in aluminum. The eight steps include die engraving, material selection and cutting, repousse, surface anvil-ing, edging, carbon coloring, a three stage polishing process and forming.
The Made In America Store also offers more great Mother's Day gifts including candles, clothes and decorations. Consumers can visit http://www.MadeInAmericaStore.com to find the full list of gifts and products.
The Made In America Store is located at 900 Maple Road in Elma, New York and is committed to selling 100% American manufactured products. You can visit http://www.MadeInAmericaStore.com for more information or shop our catalog of over 290 vendors that are devoted to producing USA made products. All US military personnel both active duty and retired receive a discount every day. Consumers can also keep up to date news articles, events, photos and contests with Facebook, Twitter, Google+, Pinterest and Tumblr!