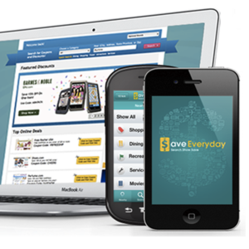 Chicago, IL (PRWEB) May 16, 2012
Coupons and discount cards are being featured everywhere thanks to the lagging economy -- from TLC's Extreme Couponing to the Celebrity Apprentice, coupons have gone mainstream. SaveEveryday.com, the nation's leading mobile couponing site, has found the best couponers in the nation with the top ten most frugal cities.
While many of the cities were expected -- with Houston, Chicago and San Antonio in the top three, cities like New York, Miami and Las Vegas also made the list. Residents of both smaller, traditionally family-focused cities as well as trend-setting urban areas are using coupons to have as much frugal fun as possible. The full list, which combines member and merchant saturation, can be found below:
1. Houston
2. Chicago
3. San Antonio
4. Columbus
5. Indianapolis
6. New York
7. Miami
8. Dallas
9. Jacksonville
10. Las Vegas
"Couponing is experiencing a resurgence in popularity, and it's easier than ever," according to SaveEveryday.com Director of Savings Nissa Rhodes. "We have seen a significant shift in not only the way in which coupons are redeemed, but also about who it is that is using these coupons. Now that you can just use the GPS on your smartphone to find deals nearby, the typical coupon user has shifted from being primarily middle-aged mothers of multiple children clipping flyers to hip, urban families and singles who use coupons as a part of their everyday lives.
Rhodes continues, "It started with the group-buy sites, where couponing met social media. Now it's evolved to a place where people are reluctant to pay full price for anything. With mobile couponing garnering interest from more brands, it makes sense that tech-savvy consumers are embracing it."
SaveEveryday.com scours the country in search of only the top-desired deals on items you buy every day. With discounts at national retailers like Target, McDonald's, Subway, JC Penney, Sephora, Kmart, Home Depot, and Foot Locker, just to name a few, SaveEveryday.com is taking the extreme out of couponing and making it fun and easy for everyone! To speak to Ms. Rhodes regarding the growing phenomenon of mobile couponing, please do not hesitate to contact me.
Beth Alexander
Public Relations
Beth.Alexander(at)SaveEveryday(dot)com
647-668-6369