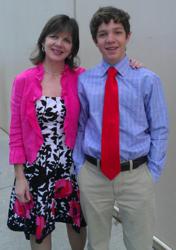 Lynchburg, Va. (PRWEB) May 10, 2012
Liberty University alumna Dr. Jeannie Falwell Savas ('86) has been named Chief of Surgery at Hunter Holmes McGuire VA Medical Center in Richmond, Va., placing her among only a handful of women in the country to hold this leadership position.
Savas graduated with a Bachelor of Science degree from Liberty. She earned her medical degree in 1990 from Virginia Commonwealth University School of Medicine, where she is an associate professor of surgery.
Savas is the daughter of Liberty founder Dr. Jerry Falwell and sister of current Chancellor and President Jerry Falwell, Jr.
Her specialty is general surgery, mostly laparoscopic abdominal surgery and robotic surgery. The new position places her in charge of all surgical specialties at the hospital, which has served more than 200,000 veterans from 52 cities and counties since 1946 and was the first VA center to perform heart transplants.
Savas said she knew since she was a young child that she'd have a career in medicine.
"My parents told me I always said I'd wanted to be a doctor. Way back then, people would say, 'Oh I hear you're going to be a nurse' [and I'd tell them] 'No, I'm going to be a doctor.'"
Although she has had other interests, from mathematics to competitive water skiing, being a physician has always been her main focus.
"People have asked me what my back-up plan was; I never thought of having one because this is what I was going to do."
She said when she was 4 and broke her arm, the doctor was explaining how he was going to have to break it all the way to reset it, so he asked her to look in another direction.
"I said, 'Oh, can't I watch?' He looked at my mom with a dumbfounded look and she said, 'Yes, she's going to want to watch.' I just sat there and watched because I thought it was really cool."
When she was in high school, surgeons who were friends of her parents allowed her to view procedures in the operating room, which piqued her interest even more.
She went on to attend Liberty, where she majored in mathematics and biology.
Coming out of Liberty, "I was completely, 100 percent, prepared for medical school," she said.
Savas returns to Lynchburg any chance she can get, along with her son Paul, 14. She said they enjoy cheering on the Flames at football and soccer games.
She said recently one of her students asked her why, knowing who her parents were, she didn't decide to go into ministry herself.
"I said, 'Medicine is a ministry. You're ministering to the needs of sick people, and dealing with people going through tough times.'"
She said she was excited to hear last year that Liberty was starting its own medical school.
"We [Christian physicians] need more of an impact in the medical field, and I think it's a perfect fit because it is a ministry," Savas said.
"There are a lot of people who seem to think there's conflict between science and religion and I really don't see it that way," she added. "God is the author of science, who created an orderly world and scientific laws, and we're in the process of discovering them all."
Savas has served as the Interim Chief of Surgery for a year and has been on the faculty since 1995. She has served as a Guest Examiner for the American Board of Surgery, is a Council Member for the Virginia Chapter of the American College of Surgeons, and serves on the Board of Directors of the Association for Surgical Education.
She has volunteered her services at the Crossover Free Clinic, the American Physicians Fellowship for Medicine in Israel, the Salvation Army and the American Red Cross, among other organizations. Savas is an active member of Grove Avenue Baptist Church, where she has been an Awana children's club leader for the past 10 years.
Liberty University, located in Lynchburg, Va., is the world's largest Christian university. Nearly 100,000 students attend classes on its 6,800-acre residential campus and study in its thriving online education program.