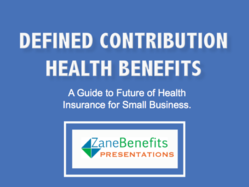 Defined Contribution Plans are the future of health benefits.
Park City, Utah (PRWEB) May 11, 2012
Zane Benefits is a software developer on the cutting edge of creating health benefits management tools "in the cloud", and a proponent of exposing a little-known option for employers who think they are unable to afford health insurance for their employees, called Defined Contribution.
Today Zane Benefits released a 13 page guide to the Defined Contribution model for providing employee health benefits.
According to the Zane Benefits website, over fifty percent of all businesses in the United States do not offer a health insurance plan to their employees. The company hopes to bring exposure to Defined Contribution Health Plans, which allow employers to name the amount they would like to contribute to their employees' insurance plans.
Employers who have signed up for a Defined Contribution plan have realized lower turnover rates and a higher rate of job acceptance for new positions.
The guide is available for free download at the zanebenefits.com website and covers the following topics:
Health Insurance: Past and Present
Defined Contribution vs. Group Health
Defined Contribution Overview
Problems DC Can Solve
Future of Employer Insurance
McKinsey Study
About Zane Benefits, Inc.
Zane Benefits, Inc, a software company, helps insurance brokers, accountants, and employers take advantage of new defined contribution health benefits and private exchanges via its proprietary SaaS online health benefits software. Zane Benefits does not sell insurance. Using Zane's platform, insurance professionals and accountants offer their clients a defined contribution health plan with multiple individual health insurance options via a private health exchange of their choice. Learn more at http://www.zanebenefits.com.